Podcast: Play in new window | Download (Duration: 58:52 — 80.9MB) | Embed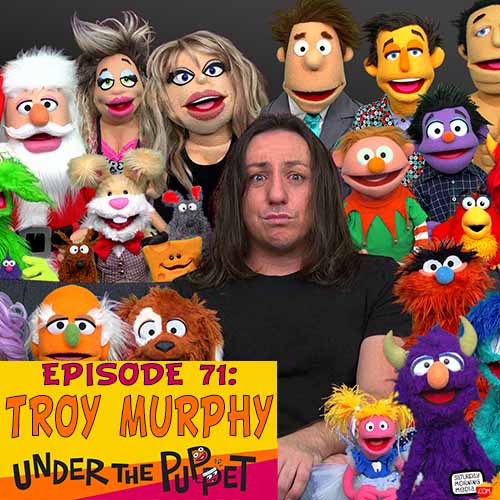 http://www.UnderThePuppet.com – All Felt No Filter is a puppet company that creates personalized custom puppet videos for people all over the world. Puppeteer Troy Murphy is the mastermind behind All Felt No Filter and in 2020, he was able to quit his job and work on puppets full time. I talk to Troy Murphy about All Felt No Filter, his other puppet projects and more on this episode of Under The Puppet.
Plus, hear more of my conversation with Troy Murphy exclusively on the free Under The Puppet app for iOS & Android!
IOS – https://apple.co/2WZ4uZg
ANDROID – https://bit.ly/2RwcFev
Also, this month you can win a personalized puppet video courtesy of All Felt No Filter! Listen to find out how to enter.
Transcript of this interview is available to the Saturday Morning Media Patreon Patrons!
Connect with Troy:
Website – https://allfeltnofilter.com
Twitter – https://twitter.com/allfeltnofilter
TikTok – https://www.tiktok.com/@allfeltpuppets
Instagram – https://www.instagram.com/allfeltnofilter/
YouTube – https://www.youtube.com/channel/UCLi8EcpBZ2AAd2VTjSJBuOQ
DISCUSSED ON THE SHOW:
Sesame Street – https://en.wikipedia.org/wiki/Sesame_Street
Cameo – https://www.cameo.com/allfeltnofilter
Noel MacNeal – https://en.wikipedia.org/wiki/Noel_MacNeal
Jimmy Kimmel Live! – https://en.wikipedia.org/wiki/Jimmy_Kimmel_Live!
CONNECT WITH THE SHOW
http://www.instagram.com/underthepuppet
http://www.twitter.com/underthepuppet
CONNECT WITH GRANT
http://www.MrGrant.com
http://www.twitter.com/toasterboy
https://instagram.com/throwingtoasters/
Art by Parker Jacobs
Music by Dan Ring
Edited by Stephen Staver
Help us make more shows like this one. Become a patron of Saturday Morning Media and get cool rewards! Visit www.patreon.com/saturdaymorningmedia for info!
©2022 Saturday Morning Media – http://www.saturdaymorningmedia.com