Jamie Shannon (Mr. Meaty, Nanalan, Big and Small) – Under The Puppet #29
Podcast: Play in new window | Download (Duration: 51:42 — 35.6MB) | Embed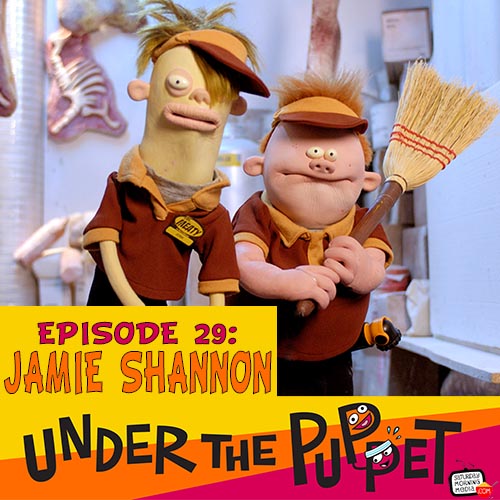 http://www.UnderThePuppet.com– This month I welcome Jamie Shannon to the show. He is the creator of Mr. Meaty, Nanalan, The Grogs and more. We talk about his beginnings, his work with Nickelodeon, his puppet short Rasputin and much more.
CONNECT WITH JAMIE:
WEBSITE – https://jamieshannon.ca
TWITTER – https://twitter.com/jshannonigan
YOUTUBE – https://www.youtube.com/user/Bigguppy
INSTAGRAM – https://www.instagram.com/jshananana/
DISCUSSED ON THE SHOW:
The Grogs – https://youtu.be/VRFheE8KcmI
Big and Small – https://youtu.be/Olb7exCSbnc

CONNECT WITH THE SHOW
http://www.twitter.com/underthepuppet
http://www.facebook.com/underthepuppet
CONNECT WITH GRANT
http://www.MrGrant.com
http://www.twitter.com/toasterboy
https://instagram.com/throwingtoasters/
Art by Parker Jacobs
Music by Dan Ring
Edited by Stephen Staver
Help us make more shows like this one. Become a patron of Saturday Morning Media and get cool rewards! Visit www.patreon.com/saturdaymorningmedia for info!
©2019 Saturday Morning Media – https://saturdaymorningmedia.com