Phillip Huber (Being John Malkovich, Oz the Great and Powerful, Muppets) – Under The Puppet #17
Podcast: Play in new window | Download (Duration: 1:12:40 — 51.8MB) | Embed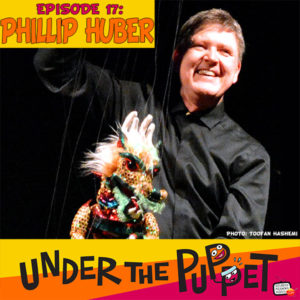 http://www.UnderThePuppet.com – Phillip Huber is internationally known as an "artist with marionettes." He has performed in venues and on cruise ships all over the world and is critically acclaimed for his work in films such as Being John Malkovich and Oz the Great and Powerful. Phillip is no stranger to hand puppets either having worked with The Muppets. We talk about all this and more in this extended interview. After the interview, I point those eager to learn more about marionettes to The Complete Book of Marionettes.
CONNECT WITH PHILLIP
WEBSITE – http://www.hubermarionettes.com
TWITTER – https://twitter.com/hubpuppet
IMDB – https://www.imdb.com/name/nm0399388/
The Complete Book of Marionettes by Mabel & Les Beaton can be found here – http://a.co/fm9brew

CONNECT WITH THE SHOW
http://www.twitter.com/underthepuppet
http://www.facebook.com/underthepuppet
CONNECT WITH GRANT
http://www.MrGrant.com
http://www.twitter.com/toasterboy
https://instagram.com/throwingtoasters/
Art by Parker Jacobs
Music by Dan Ring
Edited by Stephen Staver
Help us make more shows like this one. Become a patron of Saturday Morning Media and get cool rewards! Visit www.patreon.com/saturdaymorningmedia for info!
©2018 Saturday Morning Media – https://saturdaymorningmedia.com