57 – Noreen Young (Under the Umbrella Tree, Hi Diddle Day) – Under The Puppet
Podcast: Play in new window | Download (Duration: 1:02:11 — 85.5MB) | Embed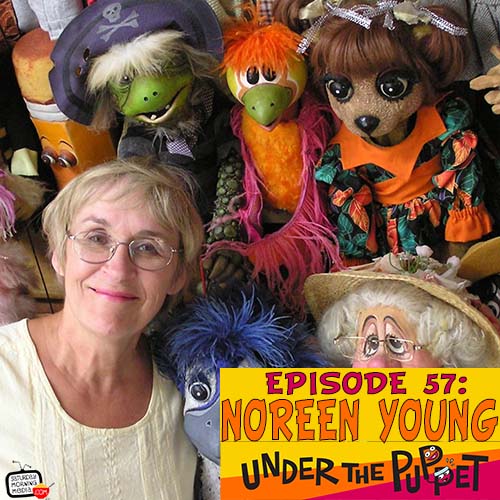 http://www.UnderThePuppet.com – Noreen Young is an incredibly influential puppeteer, puppet builder and producer who has been working in the business for decades. She had a hand in creating several iconic Canadian TV Shows including Hi Diddle Day and Pencil Box, she built puppets for TV Shows like Today's Special and Telefrancais, and she created, produced and puppeteered on the show Under the Umbrella Tree which ran on the CBC and then The Disney Channel for years. Several of Noreen's puppets are housed at the Canadian Museum of History and in 1995 she was awarded the Order of Canada, that country's highest civilian honor, for her work in children's television. I talk toNoreen Young about her career on this episode of Under The Puppet.
Also, this month you can win a copy of Out of the Shadows – The Henson Festivals and Their Impact on Contemporary Puppet Theater by Leslee Asch courtesy of Inform Press. Listen to find out how to enter.
For even more of my talk with Noreen Young, check out the Under The Puppet app for iOS and Android and click the Gift icon in the listing for this episode.
Transcript of this interview is available to the Saturday Morning Media Patreon Patrons!
CONNECT WITH NOREEN:
WIKIPEDIA: https://en.wikipedia.org/wiki/Noreen_Young
IMDB: https://www.imdb.com/name/nm1168562/
ENCYCLOPEDIA OF PUPPETRY ARTS: https://wepa.unima.org/en/noreen-young/
RETROSPECTIVE: https://youtu.be/RiNL8iL8gOI
DISCUSSED ON THE SHOW:
Puppets Up International Festival
CLIPS HEARD IN THIS EPISODE:
PENCIL BOX: https://youtu.be/pq54ZbJQkK8
UNDER THE UMBRELLA TREE: https://youtu.be/FzLxslAlxSA
RESEARCH:
http://mikeyspuppetryblog.blogspot.com/p/noreen-2006-at-puppets-up-international.html
https://youtu.be/0c44wPHsGBU
HEAR NEW EPISODES EARLY!
GET BONUS CONTENT!
DOWNLOAD THE FREE UNDER THE PUPPET APP!
IOS – https://apple.co/2WZ4uZg
ANDROID – https://bit.ly/2RwcFev
CONNECT WITH THE SHOW
http://www.instagram.com/underthepuppet
http://www.twitter.com/underthepuppet
CONNECT WITH GRANT
http://www.MrGrant.com
http://www.twitter.com/toasterboy
https://instagram.com/throwingtoasters/
Art by Parker Jacobs
Music by Dan Ring
Edited by Stephen Staver
Help us make more shows like this one. Become a patron of Saturday Morning Media and get cool rewards! Visit www.patreon.com/saturdaymorningmedia for info!
©2021 Saturday Morning Media – http://www.saturdaymorningmedia.com