Paul Lewis (Megan – M3gan, Sweet Tooth, Custard's World) – Under The Puppet #81
Podcast: Play in new window | Download (Duration: 57:59 — 79.7MB) | Embed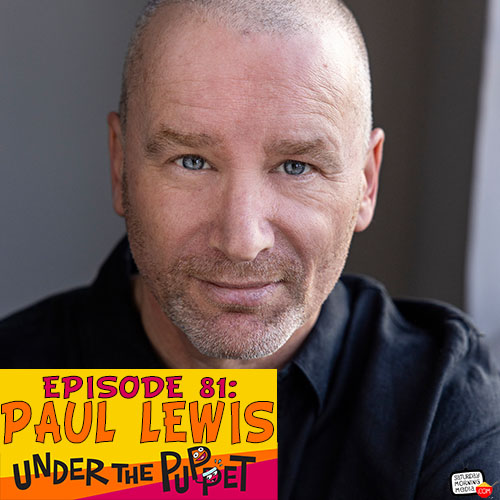 http://www.UnderThePuppet.com –
Paul Lewis is a puppeteer who was building puppets and molding creatures at an early age. A trained opera singer and accomplished actor, Paul's puppetry credit include Bobby the Gopher Boy on the hit Netflix series Sweet Tooth and the menacing M3gan, the killer robot from the hit 2022 science fiction horror film. I talk to Paul Lewis about his puppetry career on this first episode of season 7 of Under The Puppet.
Plus, hear more of my conversation with Paul Lewis exclusively on the free Under The Puppet app for iOS & Android!
IOS – https://apple.co/2WZ4uZg
ANDROID – https://bit.ly/2RwcFev
Also, this month you can win the 2022 Jim Henson Company Holiday Gift! Listen to find out how to enter. See the prize here: https://youtu.be/fS7jPUmJu_k
Transcript of this interview is available to the Saturday Morning Media Patreon Patrons!
Connect with Paul Lewis :
Instagram – https://www.instagram.com/lewispuppetz
Discussed on the show:
Custard's World – https://www.imdb.com/title/tt9008130/
M3gan – https://en.wikipedia.org/wiki/M3GAN
Sweet Tooth – https://www.netflix.com/title/81221380
Connect with the Show:
http://www.instagram.com/underthepuppet
http://www.twitter.com/underthepuppet
Connect with Grant:
http://www.MrGrant.com
http://www.twitter.com/toasterboy
https://instagram.com/throwingtoasters/
Art by Parker Jacobs
Music by Dan Ring
Edited by Stephen Staver
Help us make more shows like this one. Become a patron of Saturday Morning Media and get cool rewards! Visit www.patreon.com/saturdaymorningmedia for info!
©2023 Saturday Morning Media – http://www.saturdaymorningmedia.com