Nina Conti (Family Tree, For Your Consideration, Live at the Apollo) – Under The Puppet #15
Podcast: Play in new window | Download (Duration: 28:39 — 21.4MB) | Embed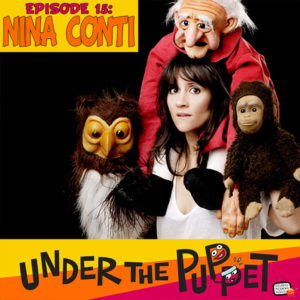 http://www.UnderThePuppet.com – This episode I speak with ventriloquist Nina Conti. She was in HBO's Family Tree and the Christopher Guest film For Your Consideration alongside her character Monkey. She's also performed her award winning shows to sold out crowds around the world. In this interview I talk to Nina about her start in ventriloquism, how she developed her character Monkey, her thoughts on improvisation during her shows and more. After the interview I talk a little more about improvisation and where you can look for improv classes in your area.
CONNECT WITH NINA
LOS ANGELES SHOW TICKETS – IN YOUR FACE – NINA CONTI IS MONKEY
WEBSITE – http://www.ninaconti.net
YOUTUBE – https://www.youtube.com/channel/UCZJQEUWX2pk_aNCjMKpFBTg
TWITTER – https://twitter.com/ninaconti
FACEBOOK – https://www.facebook.com/nina.conti/
IMDB – http://www.imdb.com/name/nm0176376
CONNECT WITH THE SHOW
http://www.twitter.com/underthepuppet
http://www.facebook.com/underthepuppet
http://www.twitter.com/underthepuppet
CONNECT WITH GRANT
http://www.MrGrant.com
http://www.twitter.com/toasterboy
https://instagram.com/throwingtoasters/
Art by Parker Jacobs
Music by Dan Ring
Help us make more shows like this one. Become a patron of Saturday Morning Media and get cool rewards! Visit www.patreon.com/saturdaymorningmedia for info!
©2018 Saturday Morning Media – https://saturdaymorningmedia.com