Sid Krofft (The Unusual Artistry of Sid Krofft) – Under The Puppet #86
Podcast: Play in new window | Download (Duration: 1:03:50 — 87.7MB) | Embed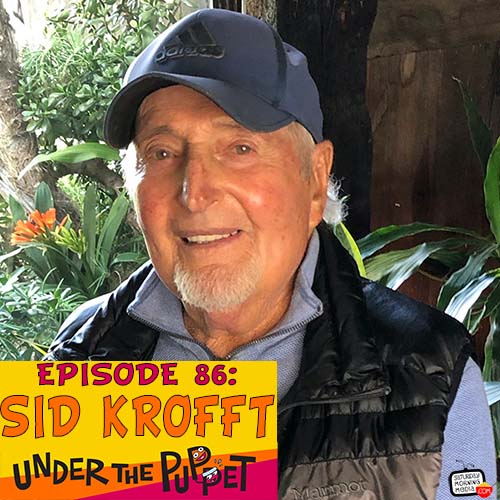 http://www.UnderThePuppet.com –
Sid Krofft is the grandfather of puppetry. He picked up his puppet at a young age and was soon a sensation booking shows across the United States and then around the world. He would go on to create shows such as H.R. Pufnstuff, Land of the Lost and Sigmund & The Sea Monsters to name a few, but his love of puppetry was always at the heart of all he did. I chatted with Sid Krofft about his career in this special episode of Under The Puppet produced for the National Puppetry Festival in conjunction with the Puppeteers of America.
Plus, hear more of my conversation with Sid Krofft exclusively on the free Under The Puppet app for iOS & Android!
IOS – https://apple.co/2WZ4uZg
ANDROID – https://bit.ly/2RwcFev
Transcript of this interview is available to the Saturday Morning Media Patreon Patrons!
Connect with Sid Krofft:
Instagram – https://www.instagram.com/sidkrofft
IMDB – https://www.imdb.com/name/nm0471898/
Puppeteers of America – https://www.puppeteers.org/
National Puppetry Festival – https://www.puppeteers.org/national-puppetry-festival
Connect with the Show:
http://www.instagram.com/underthepuppet
https://www.facebook.com/underthepuppet
http://www.twitter.com/underthepuppet
Connect with Grant:
http://www.MrGrant.com
http://www.twitter.com/toasterboy
https://instagram.com/throwingtoasters/
Art by Parker Jacobs
Music by Dan Ring
Edited by Stephen Staver
Help us make more shows like this one. Become a patron of Saturday Morning Media and get cool rewards! Visit www.patreon.com/saturdaymorningmedia for info!
©2023 Saturday Morning Media – http://www.saturdaymorningmedia.com