Tony Urbano (Flight of the Navigator, Short Circuit, Dusty's Treehouse) – Under The Puppet #51
Podcast: Play in new window | Download (Duration: 1:37:03 — 66.7MB) | Embed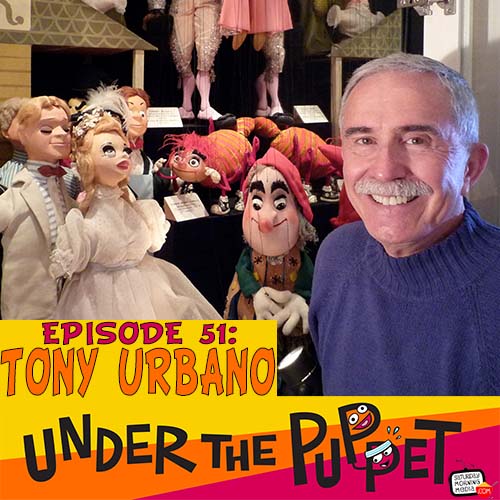 http://www.UnderThePuppet.com – Tony Urbano is a puppeteer who was trained by and worked with master puppeteers such as Ralph Chessé and Bil and Cora Baird. Tony turned down a job offer from Jim Henson to focus on building his own career, a career that included hundreds of commercials and television and film work including Flight of the Navigator, Short Circuit, Men In Black, Team America and many, many more. It would be hard to cover his entire career and the impact he's had on the art of puppetry in ten episodes but we get a good start here as Tony Urbano is my guest on this episode of Under the Puppet.
Thank you to UNIMA-USA for donating the amazing giveaway for this episode! Learn more about UNIMA-USA at http://www.unima-usa.org
Transcript of this interview is available to the Saturday Morning Media Patreon Patrons!
CONNECT WITH TONY:
IMDB: https://www.imdb.com/name/nm0881691/
DISCUSSED ON THE SHOW:
Tunabout Theater Company – Book
Barbara Madrell and the Mandrell Sisters
McDonalds McNuggets Halloween Commercial
Flight of the Navigator – Life After the Navigator – Randal Kleiser
DOWNLOAD THE FREE UNDER THE PUPPET APP!
IOS – https://apple.co/2WZ4uZg
ANDROID – https://bit.ly/2RwcFev
CONNECT WITH THE SHOW
http://www.instagram.com/underthepuppet
http://www.twitter.com/underthepuppet
http://www.facebook.com/underthepuppet
CONNECT WITH GRANT
http://www.MrGrant.com
http://www.twitter.com/toasterboy
https://instagram.com/throwingtoasters/
Art by Parker Jacobs
Music by Dan Ring
Edited by Stephen Staver
Help us make more shows like this one. Become a patron of Saturday Morning Media and get cool rewards! Visit www.patreon.com/saturdaymorningmedia for info!
©2020 Saturday Morning Media – http://www.saturdaymorningmedia.com