O'Neill National Puppetry Conference with Allan Trautman – Under The Puppet #30B
Podcast: Play in new window | Download (Duration: 52:44 — 36.3MB) | Embed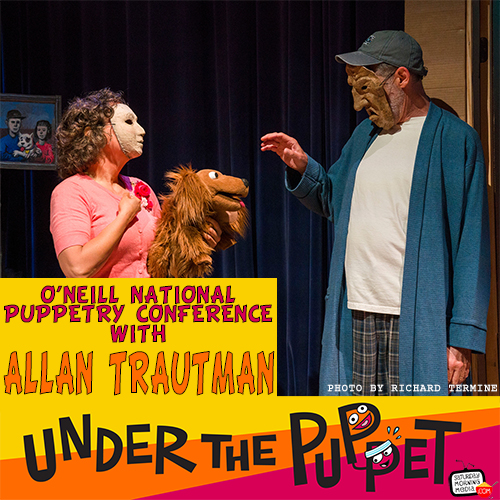 http://www.UnderThePuppet.com– In this Under The Puppet episode, Allan Trautman returns to discuss his first trip to the Eugene O'Neill National Puppetry Conference.  We talk about the project Allan worked on while there and also the nuts and bolts of the Conference like accommodations and food!  This is a great primer for folks who want to know more.
O'NEILL NATIONAL PUPPETRY CONFERENCE:
WEBSITE – https://www.theoneill.org/pup
FACEBOOK – https://www.facebook.com/ONeill-National-Puppetry-Conference-282287714558/
CONNECT WITH ALLAN:
WEBSITE – https://allantrautman.com
INSTAGRAM – https://www.instagram.com/allantrautman/
TWITTER – https://twitter.com/allantrautman
FACEBOOK – https://www.facebook.com/allansfans
DOWNLOAD THE UNDER THE PUPPET APP!
IOS – apps.apple.com/us/app/under-the-puppet/id1465915554
ANDROID – play.google.com/store/apps/details?id=com.saturdaymorningmedia.android.puppet

CONNECT WITH THE SHOW
http://www.twitter.com/underthepuppet
http://www.facebook.com/underthepuppet
CONNECT WITH GRANT
http://www.MrGrant.com
http://www.twitter.com/toasterboy
https://instagram.com/throwingtoasters/
Art by Parker Jacobs
Music by Dan Ring
Edited by Stephen Staver
Help us make more shows like this one. Become a patron of Saturday Morning Media and get cool rewards! Visit www.patreon.com/saturdaymorningmedia for info!
©2019 Saturday Morning Media – https://saturdaymorningmedia.com