Marty Krofft (H.R. Pufnstuf, Land of the Lost, Mutt & Stuff) – Under The Puppet #36
Podcast: Play in new window | Download (Duration: 40:18 — 27.8MB) | Embed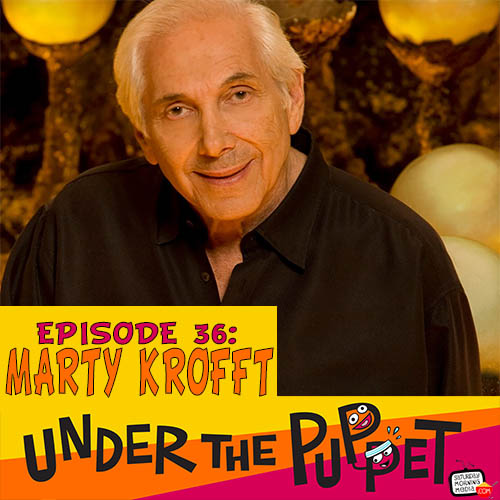 http://www.UnderThePuppet.com – This episode I sit down with one of the legends in the world of puppetry, Marty Krofft. Along with his brother Sid, Marty is responsible for such shows as H.R. Pufnstuf, Land of the Lost, Sigmund and the Sea Monsters and many more. I talk with Marty about his amazing career and his advice for your puppeteers and show creators. Plus, stay tuned after the interview for details on this show's monthly giveaway courtesy of PuppetPelts.com!
CONNECT WITH Marty Krofft:
Website –https://www.sidandmartykrofft.com
Instagram – https://www.instagram.com/sidandmartykrofft
Facebook – https://www.facebook.com/sidandmartykrofft
Twitter – https://twitter.com/SidMartyKrofft
DISCUSSED ON THE SHOW:
LES POUPÉE DE PARIS – https://youtu.be/yTy41twdw-g
HERE'S IRVING – https://youtu.be/__cYhxUhu3E
PRYOR'S PLACE – https://youtu.be/CEQFjGXCwCk
H.R. PUFNSTUF – https://youtu.be/X6K_ZVcoAbE
WONDERBUG – https://youtu.be/yV00f0K4yJw
MUTT & STUFF – https://youtu.be/IL3fdfATBQU
WORLD OF SID & MARTY KROFFT – https://youtu.be/bxmcSs9pJe0
DOWNLOAD THE FREE UNDER THE PUPPET APP!
IOS – https://apple.co/2WZ4uZg
ANDROID – https://bit.ly/2RwcFev
CONNECT WITH THE SHOW
http://www.twitter.com/underthepuppet
http://www.facebook.com/underthepuppet
CONNECT WITH GRANT
http://www.MrGrant.com
http://www.twitter.com/toasterboy
https://instagram.com/throwingtoasters/
Art by Parker Jacobs
Music by Dan Ring
Edited by Stephen Staver
Help us make more shows like this one. Become a patron of Saturday Morning Media and get cool rewards! Visit www.patreon.com/saturdaymorningmedia for info!
©2020 Saturday Morning Media – https://saturdaymorningmedia.com