Xperimental Puppetry Theater at the Center for Puppetry Arts with Jennifer Himes – Under The Puppet #29B
Podcast: Play in new window | Download (Duration: 42:21 — 29.2MB) | Embed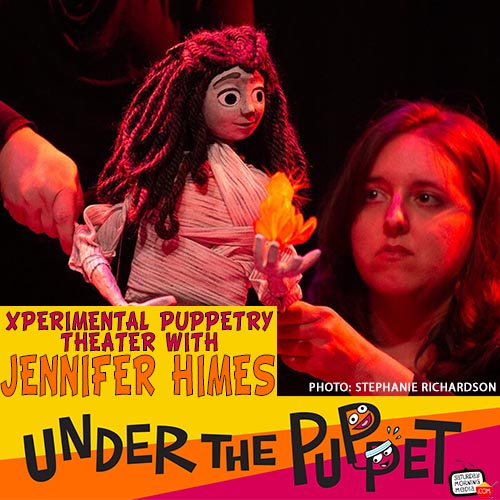 http://www.UnderThePuppet.com– In this Under The Puppet episode, I talk to puppeteer Jennifer Himesabout the Xperimental Puppetry Theater Program at the Center for Puppetry Arts in Atlanta.  Jennifer participated in the 2019 XPT Program and we chat about her experience working on her project, Dragonfire.
CENTER FOR PUPPETRY ARTS XPT PROGRAM:
VIDEO OVERVIEW – https://vimeo.com/266745405
2020 PROGRAM – http://www.puppet.org/programs/adults-teens/
CONNECT WITH JENNIFER:
WEBSITE – www.purlicuemagic.com
INSTAGRAM (PERSONAL) – instagram.com/jhimesy
INSTAGRAM (PROFESSIONAL) – instagram.com/purlicuemagic
CONNECT WITH THE SHOW
http://www.twitter.com/underthepuppet
http://www.facebook.com/underthepuppet
CONNECT WITH GRANT
http://www.MrGrant.com
http://www.twitter.com/toasterboy
https://instagram.com/throwingtoasters/
Art by Parker Jacobs
Music by Dan Ring
Edited by Stephen Staver
Help us make more shows like this one. Become a patron of Saturday Morning Media and get cool rewards! Visit www.patreon.com/saturdaymorningmedia for info!
©2019 Saturday Morning Media – https://saturdaymorningmedia.com