Matt Vogel (Sesame Street, The Muppets) – Under The Puppet #50
Podcast: Play in new window | Download (Duration: 1:01:54 — 42.6MB) | Embed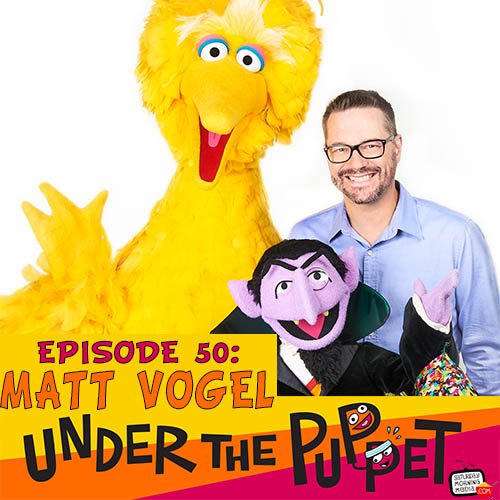 http://www.UnderThePuppet.com – Matt Vogel is a principal Muppet performer who took over the roles of Sesame Street's Big Bird and The Count as well as the most recognizable puppet in the world, Kermit the Frog. He also performed the villainous Constantine in the 2014 film Muppets Most Wanted and has made The Muppet's Uncle Deadly the breakout fan favorite he is today. I sit down with Matt Vogel to talk about his work with these characters, the new Muppet's series Muppets Now on Disney+, and much more on this episode of Under the Puppet.
Transcript of this interview is available to the Saturday Morning Media Patreon Patrons!
CONNECT WITH MATT:
WEBSITE: http://www.mattvogel.com
TWITTER: https://twitter.com/welcomemattv
INSTAGRAM: http://www.instagram.com/welcomemattv
FACEBOOK: https://www.facebook.com/welcomemattv
DISCUSSED ON THE SHOW:
BELOW THE FRAME: https://belowtheframe.buzzsprout.com
MUPPETS NOW: https://disneyplusoriginals.disney.com/show/muppets-now
SESAME STREET: https://www.sesamestreet.org
DOWNLOAD THE FREE UNDER THE PUPPET APP!
IOS – https://apple.co/2WZ4uZg
ANDROID – https://bit.ly/2RwcFev
CONNECT WITH THE SHOW
http://www.instagram.com/underthepuppet
http://www.twitter.com/underthepuppet
http://www.facebook.com/underthepuppet
CONNECT WITH GRANT
http://www.MrGrant.com
http://www.twitter.com/toasterboy
https://instagram.com/throwingtoasters/
Art by Parker Jacobs
Music by Dan Ring
Edited by Stephen Staver
Help us make more shows like this one. Become a patron of Saturday Morning Media and get cool rewards! Visit www.patreon.com/saturdaymorningmedia for info!
©2020 Saturday Morning Media – http://www.saturdaymorningmedia.com