2020 National Puppetry Conference with Ronnie Burkett – Under The Puppet #46
Podcast: Play in new window | Download (Duration: 24:37 — 22.6MB) | Embed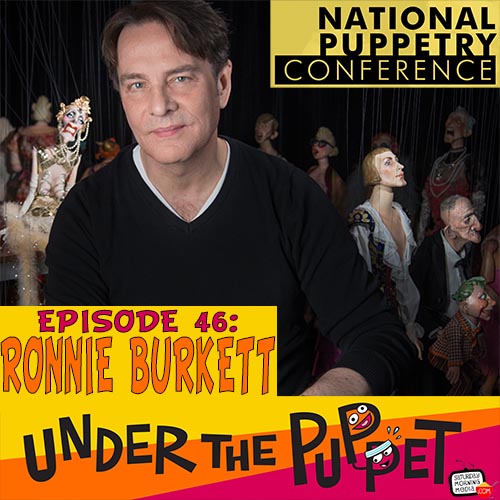 http://www.UnderThePuppet.com – I talk to master puppeteer Ronnie Burkett, who is teaching a Master Class at the 2020 National Puppetry Conference, about his thoughts on the Conference and what those who tune in can expect!
THE 2020 NATIONAL PUPPETRY CONFERENCE AT THE O'NEILL:
INFO – https://www.theoneill.org/pup
MASTER CLASS TICKETS – https://theoneill.secure.force.com/ticket/
CONNECT WITH RONNIE:
WEBSITE – http://www.johnlambert.ca/ENGLISH/ronnie-burkett/
INSTAGRAM – https://www.instagram.com/ronnieburkett
Thank you to the National Puppetry Conference for providing Under The Puppet with a pass to the 2020 Master Classes at the National Puppetry Conference.
DOWNLOAD THE FREE UNDER THE PUPPET APP!
IOS – https://apple.co/2WZ4uZg
ANDROID – https://bit.ly/2RwcFev
CONNECT WITH THE SHOW
http://www.instagram.com/underthepuppet
http://www.twitter.com/underthepuppet
http://www.facebook.com/underthepuppet
CONNECT WITH GRANT
http://www.MrGrant.com
http://www.twitter.com/toasterboy
https://instagram.com/throwingtoasters/
Art by Parker Jacobs
Music by Dan Ring
Edited by Stephen Staver
Help us make more shows like this one. Become a patron of Saturday Morning Media and get cool rewards! Visit www.patreon.com/saturdaymorningmedia for info!
©2020 Saturday Morning Media – http://www.saturdaymorningmedia.com