58 – Mike Quinn (Muppets, Dark Crystal, Star Wars) – Under The Puppet
Podcast: Play in new window | Download (Duration: 1:30:27 — 124.3MB) | Embed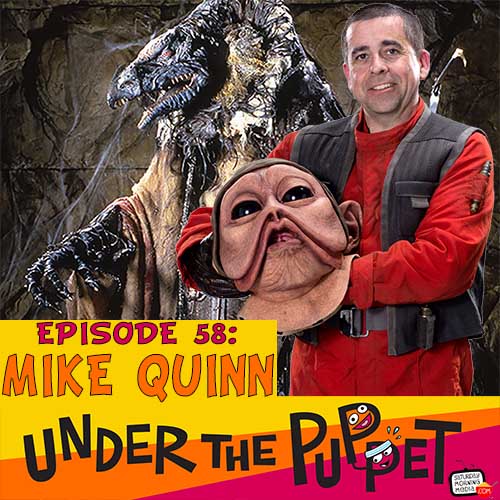 http://www.UnderThePuppet.com – Mike Quinn's first professional puppetry gig was working for Jim Henson on The Great Muppet Caper. His second job was working on The Dark Crystal. Since then he's puppeteered on a ton of projects including The Muppets, Muppets Most Wanted, and The Ghost of Faffner Hall. He also played the role of Nien Nunb in the film Return of the Jedi and he reprised the role in Star Wars episodes VII-IX. I talk with Mike Quinn about these roles and more on this episode of Under The Puppet.
Also, this month you can win an exclusive Under the Puppet Puppeteer Headband! Listen to find out how to enter.
For even more of my talk with Mike Quinn, check out the Under The Puppet app for iOS and Android and click the Gift icon in the listing for this episode.
Transcript of this interview is available to the Saturday Morning Media Patreon Patrons!
CONNECT WITH MIKE:
INSTAGRAM – https://instagram.com/secretsofpuppetry
SECRETS OF PUPPETRY – http://secretsofpuppetry.com
QUINN ZONE STUDIOS – http://www.quinnzonestudios.com
IMDB – https://www.imdb.com/name/nm0703934/
DISCUSSED ON THE SHOW:
Woody's Roundup from Toy Story 2
CLIPS HEARD IN THIS EPISODE:
GHOST OF FAFFNER HALL – https://youtu.be/QxxcIc18fq4
DIDDLEY SQOT – https://youtu.be/E7z-uHTnZxM
THE GREAT BONG – https://youtu.be/toIIzW5Cr9k
HEAR NEW EPISODES EARLY!
GET BONUS CONTENT!
DOWNLOAD THE FREE UNDER THE PUPPET APP!
IOS – https://apple.co/2WZ4uZg
ANDROID – https://bit.ly/2RwcFev
CONNECT WITH THE SHOW
http://www.instagram.com/underthepuppet
http://www.twitter.com/underthepuppet
CONNECT WITH GRANT
http://www.MrGrant.com
http://www.twitter.com/toasterboy
https://instagram.com/throwingtoasters/
Art by Parker Jacobs
Music by Dan Ring
Edited by Stephen Staver
Help us make more shows like this one. Become a patron of Saturday Morning Media and get cool rewards! Visit www.patreon.com/saturdaymorningmedia for info!
©2021 Saturday Morning Media – http://www.saturdaymorningmedia.com