Ronnie Le Drew (Zippy, Labyrinth, Muppet Christmas Carol) – Under The Puppet #31
Podcast: Play in new window | Download (Duration: 1:48:18 — 74.4MB) | Embed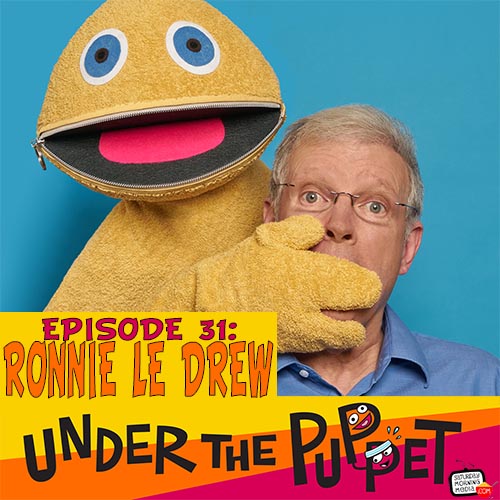 http://www.UnderThePuppet.com– This episode my guest is Ronnie Le Drew. He's worked in puppetry for over 50 years, starting as a teen at The Little Angel Theatre in London. He went on to work in theatre, television and film including on Labyrinth, Little Shop of Horrors, Muppet Christmas Carol and more. He also portrayed the character of Zippy on the long running show Rainbow. I talk to Ronnie about all these things and more in this episode!
CONNECT WITH RONNIE:
ZIPPY AND ME – https://twitter.com/zippy_me
WEBSITE – http://www.ronnieledrew.com
TWITTER – https://twitter.com/punchand
DISCUSSED ON THE SHOW:
LITTLE ANGEL THEATRE – https://littleangeltheatre.com
HOGARTH PUPPETS – https://wepa.unima.org/en/hogarth-puppets/
RAINBOW – https://en.wikipedia.org/wiki/Rainbow_(TV_series)
THE SOOTY SHOW – https://en.wikipedia.org/wiki/The_Sooty_Show
MARMITE COMMERCIAL – https://youtu.be/9XvD4ytLkJw

DOWNLOAD THE FREE UNDER THE PUPPET APP!
IOS – https://apple.co/2WZ4uZg
ANDROID – https://bit.ly/2RwcFev
CONNECT WITH THE SHOW
http://www.twitter.com/underthepuppet
http://www.facebook.com/underthepuppet
CONNECT WITH GRANT
http://www.MrGrant.com
http://www.twitter.com/toasterboy
https://instagram.com/throwingtoasters/
Art by Parker Jacobs
Music by Dan Ring
Edited by Stephen Staver
Help us make more shows like this one. Become a patron of Saturday Morning Media and get cool rewards! Visit www.patreon.com/saturdaymorningmedia for info!
©2019 Saturday Morning Media – https://saturdaymorningmedia.com