Michael Paul Ziegfeld (Sesame Street, Jim Henson Company, America's Got Talent) – Under The Puppet #20
Podcast: Play in new window | Download (Duration: 57:55 — 40.1MB) | Embed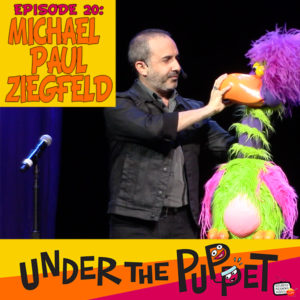 http://www.UnderThePuppet.com – This episode, my guest is Michael Paul Ziegfeld who has puppeteered for Sesame Street, The Jim Henson Company and also created a puppet web series for MTV. He's also created and toured his own stage show. He's opened for James Brown, Joan Rivers and Don Rickles to name a few. He also is a very active voiceover artist having lent his talents to Pixar and Disney. In this interview we talk to Michael Paul Ziegfeld about meeting Jim Henson, participating in Henson Workshops and performing on cruise ships and for corporate gigs. There's a lot of great advice in this interview!
CONNECT WITH MICHAEL
WEBSITE – https://michaelpaulonline.com
TWITTER – https://twitter.com/MichaelPaulLive
INSTAGRAM – https://www.instagram.com/MichaelPaulOnline/
FACEBOOK – https://www.facebook.com/MichaelPaulOnline
CONNECT WITH THE SHOW
http://www.twitter.com/underthepuppet
http://www.facebook.com/underthepuppet
CONNECT WITH GRANT
http://www.MrGrant.com
http://www.twitter.com/toasterboy
https://instagram.com/throwingtoasters/
Art by Parker Jacobs
Music by Dan Ring
Edited by Stephen Staver
Help us make more shows like this one. Become a patron of Saturday Morning Media and get cool rewards! Visit www.patreon.com/saturdaymorningmedia for info!
©2018 Saturday Morning Media – https://saturdaymorningmedia.com