Carol Sterling (Educational Puppeteer, UNIMA Past President, Fulbright Specialist) – Under The Puppet #88
Podcast: Play in new window | Download (Duration: 1:20:31 — 110.7MB) | Embed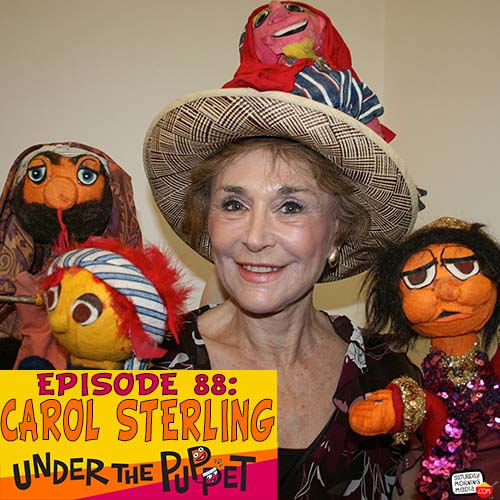 http://www.UnderThePuppet.com –
While I was at the 2023 National Puppetry Festival, I met Carol Sterling for the first time. Within a minute of speaking with her, I knew I wanted to get her on the show. Carol Sterling is an educational puppeteer who has taught puppetry in education around the world including as a Fulbright Specialist in Uganda and India and she was invited to the White House for her work in the arts. She is also just about the biggest champion of the puppetry arts that I've ever met. It was my pleasure to sit down and chat with Carol Sterling for this episode of Under The Puppet.
Transcript of this interview is available to the Saturday Morning Media Patreon Patrons!
Connect with Carol Sterling:
Website – https://www.carolsterling.net/
Public Relations Handout – https://traffic.libsyn.com/secure/underthepuppet/UTP_88_PRIdeas.pdf
Educational Puppeteer Resources – https://traffic.libsyn.com/secure/underthepuppet/UTP_88_EPResourseList.pdf
Mentioned on the show:
Puppetry in Theatre and Arts Education: Head, Hands and Heart by Johanna Smith – https://a.co/d/iEZIaOI
Connect with the Show:
http://www.instagram.com/underthepuppet
https://www.facebook.com/underthepuppet
http://www.twitter.com/underthepuppet
Connect with Grant:
http://www.MrGrant.com
http://www.twitter.com/toasterboy
https://instagram.com/throwingtoasters/
Art by Parker Jacobs
Music by Dan Ring
Edited by Stephen Staver
Help us make more shows like this one. Become a patron of Saturday Morning Media and get cool rewards! Visit www.patreon.com/saturdaymorningmedia for info!
©2023 Saturday Morning Media – http://www.saturdaymorningmedia.com