Shari Lewis & Lamb Chop: The Team That Changed Children's Television with Mallory Lewis – Under The Puppet #77
Podcast: Play in new window | Download (Duration: 36:22 — 50.0MB) | Embed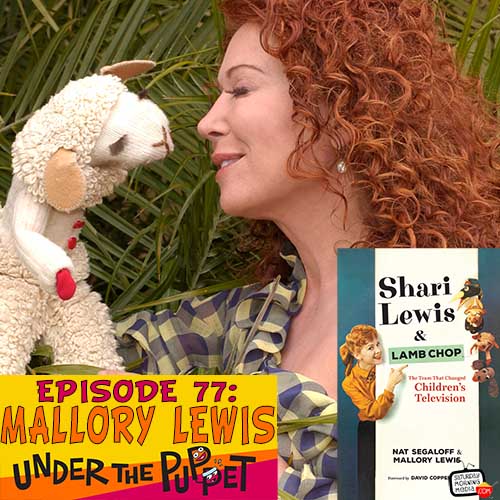 http://www.UnderThePuppet.com –
Mallory Lewis is the Emmy Award winning daughter of ventriloquist Shari Lewis and the current performer of Lamb Chop. She's also an author who along with Nat Segloff has just released a book called: Shari Lewis and Lamb Chop: The Team That Changed Children's Television. I talk with Mallory about this new biography that examines the joys, sorrows, triumphs, and sheer hard work that gave Shari Lewis and Lamb Chop their enduring star power on this episode of Under The Puppet.
Plus, hear more of my exclusive interview with Lamb Chop exclusively on the free Under The Puppet app for iOS & Android!
IOS – https://apple.co/2WZ4uZg
ANDROID – https://bit.ly/2RwcFev
Also, this month you can win an Inner Monster Kit! Listen to find out how to enter.
Transcript of this interview is available to the Saturday Morning Media Patreon Patrons!
Connect with Mallory Lewis:
Book – https://www.amazon.com/Shari-Lewis-Lamb-Chop-Television/dp/0813196264
Website – https://mallorylewisandlambchop.com/
TikTok – https://www.tiktok.com/@yourfavlambchop
Instagram – https://instagram.com/mallorylewisandlambchop
IMDB – https://www.imdb.com/name/nm4758949/
Wikipedia – https://en.wikipedia.org/wiki/Mallory_Lewis
Facebook – https://www.facebook.com/mallorylewisandlambchop
Discussed on the show:
Coming Soon
Connect with the Show:
http://www.instagram.com/underthepuppet
http://www.twitter.com/underthepuppet
Connect with Grant:
http://www.MrGrant.com
http://www.twitter.com/toasterboy
https://instagram.com/throwingtoasters/
Art by Parker Jacobs
Music by Dan Ring
Edited by Stephen Staver
Help us make more shows like this one. Become a patron of Saturday Morning Media and get cool rewards! Visit www.patreon.com/saturdaymorningmedia for info!
©2022 Saturday Morning Media – http://www.saturdaymorningmedia.com