Sam Koji Hale & Mallory O'Meara (Yamasong: March of the Hollows) – Under The Puppet #22
Podcast: Play in new window | Download (Duration: 54:16 — 37.7MB) | Embed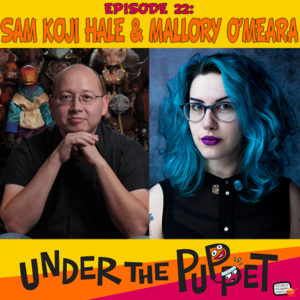 http://www.UnderThePuppet.com – Recorded live during the DragonCon Puppetry Track in Atlanta, this is a great panel discussion about puppet filmmaking with creator and puppeteer Sam Koji Hale and producer Mallory O'Meara. We discuss the genesis and production of the film Yamasong: March of the Hollows and there is a ton of great advice about making your own puppet film.
CONNECT WITH SAM KOJI HALE:
WEBSITE – http://mightypug.com
IMDB – https://www.imdb.com/name/nm1199352/
INSTAGRAM – https://www.instagram.com/samkojihale/
CONNECT WITH MALLORY O'MEARA:
WEBSITE – http://www.malloryomeara.com
TWITTER – https://twitter.com/malloryomeara
INSTAGRAM – https://www.instagram.com/malloryomeara
PODCAST – http://www.maximumfun.org/shows/reading-glasses
CONNECT WITH THE SHOW
http://www.twitter.com/underthepuppet
http://www.facebook.com/underthepuppet
CONNECT WITH GRANT
http://www.MrGrant.com
http://www.twitter.com/toasterboy
https://instagram.com/throwingtoasters/
Art by Parker Jacobs
Music by Dan Ring
Edited by Stephen Staver
Help us make more shows like this one. Become a patron of Saturday Morning Media and get cool rewards! Visit www.patreon.com/saturdaymorningmedia for info!
©2018 Saturday Morning Media – https://saturdaymorningmedia.com