More with Heath McIvor (Randy Feltface, Me & My Monsters) – Under The Puppet #34B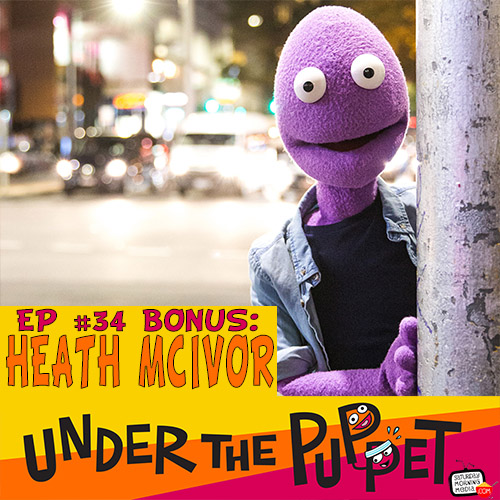 THIS EPISODE IS AVAILABLE EXCLUSIVELY ON THE UNDER THE PUPPET APP! GET THE FREE APP HERE:
iOS: http://bit.ly/utpapp
Android: http://bit.ly/utpandroid
http://www.UnderThePuppet.com – In this Under The Puppet App Exclusive episode, my discussion with puppeteer Heath McIvor continues! He turns the tables on my and starts asking me about my puppetry career. We discuss some of our favorite puppeteers, Dark Crystal and more!
CONNECT WITH HEATH MCIVOR:
WEBSITE – http://www.heathmcivor.com
IMDB – https://www.imdb.com/name/nm0570868
RANDY FELTFACE – https://www.feltface.com
RANDY'S FACEBOOK – https://www.facebook.com/randyfeltface/
RANDY'S TWITTER – https://twitter.com/RandyFeltfaceRANDY'S INSTAGRAM – https://www.instagram.com/randyfeltface/
DISCUSSED ON THE SHOW:
MAGPIE SIZZLE REEL – https://vimeo.com/2050758
PAINT BY MONSTER – https://www.paintbymonster.com/paintbymonster
DOWNLOAD THE UNDER THE PUPPET APP!
IOS – apps.apple.com/us/app/under-the-puppet/id1465915554
ANDROID – play.google.com/store/apps/details?id=com.saturdaymorningmedia.android.puppet

CONNECT WITH THE SHOW
http://www.twitter.com/underthepuppet
http://www.facebook.com/underthepuppet
CONNECT WITH GRANT
http://www.MrGrant.com
http://www.twitter.com/toasterboy
https://instagram.com/throwingtoasters/
Art by Parker Jacobs
Music by Dan Ring
Edited by Stephen Staver
Help us make more shows like this one. Become a patron of Saturday Morning Media and get cool rewards! Visit www.patreon.com/saturdaymorningmedia for info!
©2019 Saturday Morning Media – https://saturdaymorningmedia.com