Heath McIvor (Randy Feltface, Me & My Monsters) – Under The Puppet #34
Podcast: Play in new window | Download (Duration: 1:11:36 — 49.2MB) | Embed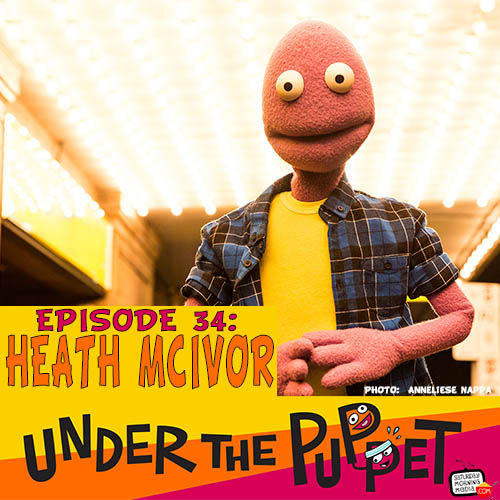 http://www.UnderThePuppet.com – Heath McIvor started puppeteering when he was 17 years old and he's worked on everything from television shows such as Jim Henson's Me & My Monsters to arena spectaculars like Walking With Dinosaurs. His greatest claim to fame though, may just be his own character, Randy FeltFace who has appeared in a countless number of theater festivals and on television shows around the world. I talk to Heath McIvor about his career, Randy and everything in between on this episode of Under The Puppet. Download the free Under The Puppet App for iOS and Android to hear even more of my conversation with Heath!
CONNECT WITH HEATH MCIVOR:
WEBSITE – http://www.heathmcivor.com
IMDB – https://www.imdb.com/name/nm0570868
RANDY FELTFACE – https://www.feltface.com
RANDY'S FACEBOOK – https://www.facebook.com/randyfeltface/
RANDY'S TWITTER – https://twitter.com/RandyFeltface
RANDY'S INSTAGRAM – https://www.instagram.com/randyfeltface/
DISCUSSED ON THE SHOW:
HEATH'S DEMO REEL – https://vimeo.com/348721479
RANDY BUYS A BOOKSHELF – https://youtu.be/Mq_wZE93ZAY
RANDY WRITES A NOVEL – https://youtu.be/LhjMOtaBqVc
SAMMY J & RANDY – https://youtu.be/TpZY2WhRGgA
PIG'S BREAKFAST – https://youtu.be/GQYN1XnF3-Y

DOWNLOAD THE FREE UNDER THE PUPPET APP!
IOS – https://apple.co/2WZ4uZg
ANDROID – https://bit.ly/2RwcFev
CONNECT WITH THE SHOW
http://www.twitter.com/underthepuppet
http://www.facebook.com/underthepuppet
CONNECT WITH GRANT
http://www.MrGrant.com
http://www.twitter.com/toasterboy
https://instagram.com/throwingtoasters/
Art by Parker Jacobs
Music by Dan Ring
Edited by Stephen Staver
Help us make more shows like this one. Become a patron of Saturday Morning Media and get cool rewards! Visit www.patreon.com/saturdaymorningmedia for info!
©2019 Saturday Morning Media – https://saturdaymorningmedia.com