Alice Dinnean (Muppets, Sesame Street, Dark Crystal) – Under The Puppet #24
Podcast: Play in new window | Download (Duration: 58:14 — 40.3MB) | Embed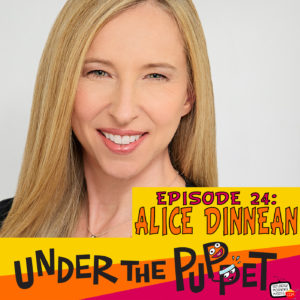 http://www.UnderThePuppet.com – Alice Dinnean has puppeteered on TV and film with The Muppets, Sesame Street, and The Jim Henson Company to name just a few. In this interview, we talk about her beginnings as a puppeteer, being the new puppeteer in a high stakes situation, her advice for young puppeteers, writing for puppetry and much more.
MORE ABOUT ALICE:
IMDB – https://www.imdb.com/name/nm0227771/
WIKIPEDIA – https://en.wikipedia.org/wiki/Alice_Dinnean
MENTIONED ON THE SHOW:
CHILDREN'S FAIRYLAND – https://fairyland.org
JACK'S BIG MUSIC SHOW – https://en.wikipedia.org/wiki/Jack%27s_Big_Music_Show
CRICKET MAGAZINE – http://cricketmedia.com/Cricket-literary-magazine

CONNECT WITH THE SHOW
http://www.twitter.com/underthepuppet
http://www.facebook.com/underthepuppet
CONNECT WITH GRANT
http://www.MrGrant.com
http://www.twitter.com/toasterboy
https://instagram.com/throwingtoasters/
Art by Parker Jacobs
Music by Dan Ring
Edited by Stephen Staver
Help us make more shows like this one. Become a patron of Saturday Morning Media and get cool rewards! Visit www.patreon.com/saturdaymorningmedia for info!
©2018 Saturday Morning Media – https://saturdaymorningmedia.com