60 – Michelle Zamora (Waffles + Mochi, A Black Lady Sketch Show, Viva La Puppet) – Under The Puppet
Podcast: Play in new window | Download (Duration: 48:00 — 66.3MB) | Embed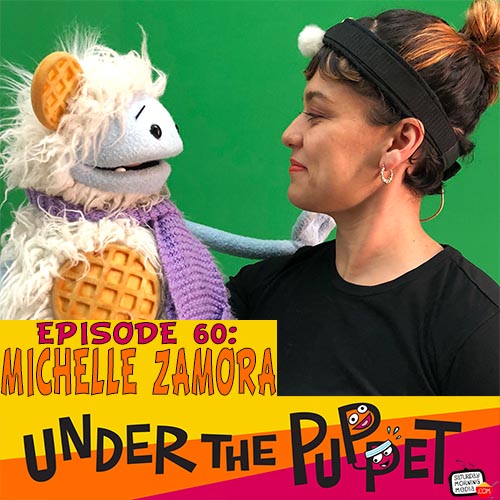 http://www.UnderThePuppet.com – Michelle Zamora puppeteers Waffles on the hit Netflix series Waffles + Mochi.  She's performed and built puppets for TV shows including A Black Lady Sketch Show on HBO, for Theater where she won an award for her puppetry designs and for commercials and music videos.  I talk to Michelle about her career and her puppet company Viva La Puppet on this episode of Under The Puppet.
Also, this month you can win a Fraggle Rock sketch book! Listen to find out how to enter.
For even more of my talk with Michelle Zamora, check out the Under The Puppet app for iOS and Android and click the Gift icon in the listing for this episode.
Transcript of this interview is available to the Saturday Morning Media Patreon Patrons!
CONNECT WITH MICHELLE:
WEBSITE – https://vivalapuppet.com
IMDB – https://www.imdb.com/name/nm2388609
INSTAGRAM – https://www.instagram.com/vivalapuppet/
DISCUSSED ON THE SHOW:
California State University Los Angeles (Cal State LA)
A Black Lady Sketch Show Intro
CLIPS HEARD IN THIS EPISODE:
BOB'S BURGERS LIVE – https://youtu.be/8bzjgWWzCmk
WAFFLES + MOCHI – https://youtu.be/0GypJISaCS4
HEAR NEW EPISODES EARLY!
GET BONUS CONTENT!
DOWNLOAD THE FREE UNDER THE PUPPET APP!
IOS – https://apple.co/2WZ4uZg
ANDROID – https://bit.ly/2RwcFev
CONNECT WITH THE SHOW
http://www.instagram.com/underthepuppet
http://www.twitter.com/underthepuppet
CONNECT WITH GRANT
http://www.MrGrant.com
http://www.twitter.com/toasterboy
https://instagram.com/throwingtoasters/
Art by Parker Jacobs
Music by Dan Ring
Edited by Stephen Staver
Help us make more shows like this one. Become a patron of Saturday Morning Media and get cool rewards! Visit www.patreon.com/saturdaymorningmedia for info!
©2021 Saturday Morning Media – http://www.saturdaymorningmedia.com