Art Gruenberger (Puppet Art Theater Company) – Under The Puppet #26
Podcast: Play in new window | Download (Duration: 51:22 — 35.4MB) | Embed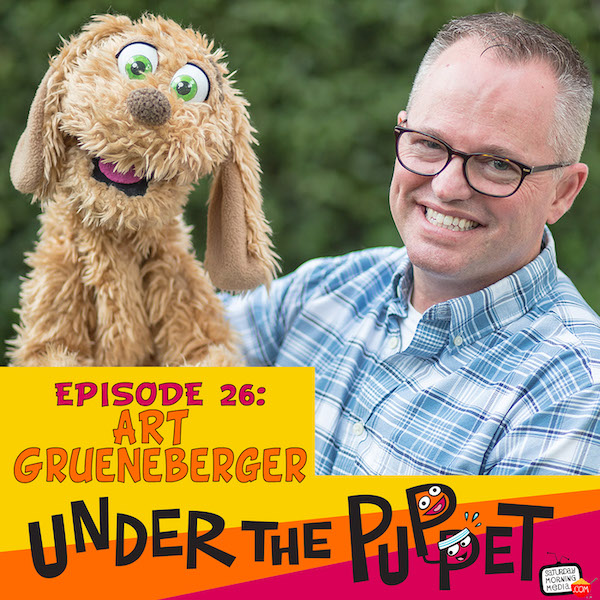 http://www.UnderThePuppet.com – Welcome to Season 3 of Under The Puppet!  This episode I talk with Art Gruenberger who is the founder of the Puppet Art Theater Company. A company that makes six figures a year performing shows all over California.  Art gives lectures on making money in puppetry at puppet festivals across the country.  If you want to make money in puppetry, this is the episode to listen to!
CONNECT WITH ART:
WEBSITE – http://puppetarts.com
FACEBOOK – https://www.facebook.com/Puppet-Art-Theater-Co-126020881399/
MENTIONED ON THE SHOW:
NATIONAL FESTIVAL – https://www.puppeteers.org/national-puppetry-festival-2019/
NATIONAL PUPPETRY CONFERENCE – https://www.theoneill.org/pup

CONNECT WITH THE SHOW
http://www.twitter.com/underthepuppet
http://www.facebook.com/underthepuppet
CONNECT WITH GRANT
http://www.MrGrant.com
http://www.twitter.com/toasterboy
https://instagram.com/throwingtoasters/
Art by Parker Jacobs
Music by Dan Ring
Edited by Stephen Staver
Help us make more shows like this one. Become a patron of Saturday Morning Media and get cool rewards! Visit www.patreon.com/saturdaymorningmedia for info!
©2019 Saturday Morning Media – https://saturdaymorningmedia.com