Trace Beaulieu (Mystery Science Theater 3000) – Under The Puppet #32
Podcast: Play in new window | Download (Duration: 1:00:39 — 41.7MB) | Embed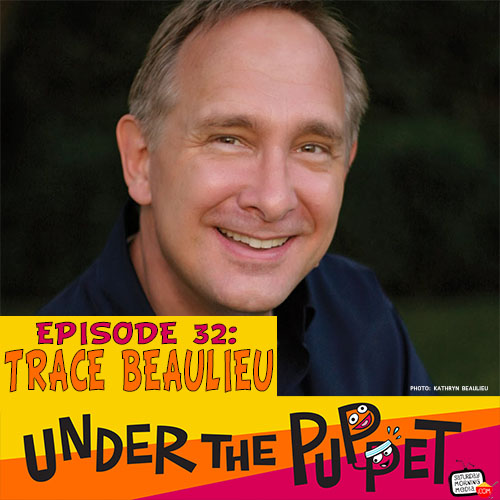 http://www.UnderThePuppet.com – Trace Beaulieu is a founding cast member of the television show Mystery Science Theater 3000 where he originated the role of Crow T. Robot. In this episode, recorded live at the 2019 National Puppetry Festival, I talk to Trace about what brought him to the world of puppetry and we get some behind the scenes stories about working on Mystery Science Theater 3000. We also open the floor to questions.
CONNECT WITH TRACE:
WEBSITE – http://tracebeaulieu.com
THE MADS ARE BACK – https://www.themadsareback.com
IMDB – https://www.imdb.com/name/nm0064546/
TWITTER – https://twitter.com/tracebeaulieu
DISCUSSED ON THE SHOW:
The Frank – https://youtu.be/O2dWJIastOM
Danger, Death Ray Fire – https://youtu.be/CISRRn3wolk
Crow Give Joel A Haircut – https://youtu.be/7jqAG0G2q7I
Special thanks to the Puppeteers of Americafor their support in making this show possible. More info at https://www.puppeteers.org

DOWNLOAD THE FREE UNDER THE PUPPET APP!
IOS – https://apple.co/2WZ4uZg
ANDROID – https://bit.ly/2RwcFev
CONNECT WITH THE SHOW
http://www.twitter.com/underthepuppet
http://www.facebook.com/underthepuppet
CONNECT WITH GRANT
http://www.MrGrant.com
http://www.twitter.com/toasterboy
https://instagram.com/throwingtoasters/
Art by Parker Jacobs
Music by Dan Ring
Edited by Stephen Staver
Help us make more shows like this one. Become a patron of Saturday Morning Media and get cool rewards! Visit www.patreon.com/saturdaymorningmedia for info!
©2019 Saturday Morning Media – https://saturdaymorningmedia.com