TV & Film Union Contracts with Kevin Carlson – Under The Puppet #36.5
Podcast: Play in new window | Download (Duration: 45:12 — 41.5MB) | Embed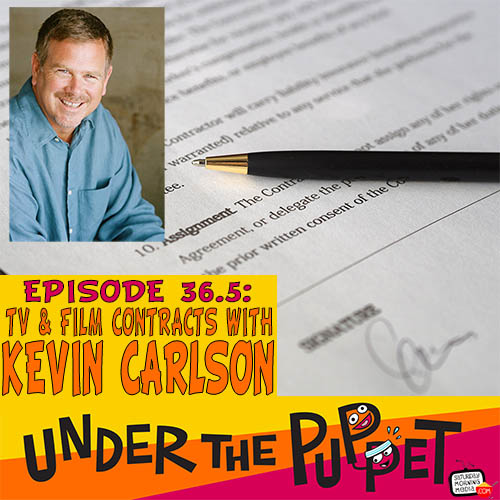 http://www.underthepuppet.com – In this episode, I sit down with Kevin Carlson to talk SAG/AFTRA Contracts and how they relate to puppeteers. Kevin and I discuss what those contracts should and shouldn't say, what to do if you're presented with a contract that doesn't look right and more.
DISCUSSED ON THE SHOW:
SAG/AFTRA PUPPETEERS VIDEO – https://youtu.be/1QOqk8RR_dY
SAG/AFTRA PUPPETEERS FACEBOOK GROUP – https://www.facebook.com/groups/1712800852184055/(ONLY FOR UNION PUPPETEERS)
CONNECT WITH KEVIN:
IMDB – http://www.imdb.com/name/nm0137955/
INSTAGRAM – https://www.instagram.com/kevincarlson1962/
DOWNLOAD THE UNDER THE PUPPET APP!
IOS – apps.apple.com/us/app/under-the-puppet/id1465915554
ANDROID – play.google.com/store/apps/details?id=com.saturdaymorningmedia.android.puppet

CONNECT WITH THE SHOW
http://www.twitter.com/underthepuppet
http://www.facebook.com/underthepuppet
CONNECT WITH GRANT
http://www.MrGrant.com
http://www.twitter.com/toasterboy
https://instagram.com/throwingtoasters/
Art by Parker Jacobs
Music by Dan Ring
Edited by Stephen Staver
Help us make more shows like this one. Become a patron of Saturday Morning Media and get cool rewards! Visit www.patreon.com/saturdaymorningmedia for info!
©2020 Saturday Morning Media – https://saturdaymorningmedia.com