Gordon Smuder, Michael Heagle & Jennifer Menken (Transylvania Television) – Under The Puppet #33
Podcast: Play in new window | Download (Duration: 51:30 — 35.4MB) | Embed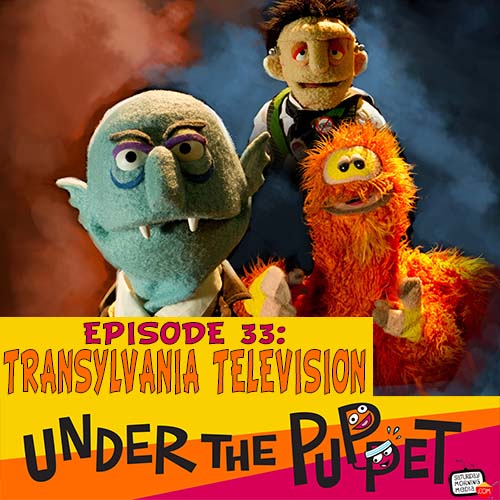 http://www.UnderThePuppet.com – Transylvania Television, or TVTV, is a truly independent puppet television series. In this episode I speak with the creative team behind the show, Gordon Smuder, Michael Heagle and Jennifer Menken. If you've ever wanted to start your own puppet television series, this is a MUST LISTEN episode! Recorded while at the 2019 Puppeteers of America National Festival!
CONNECT WITH TVTV:
WEBSITE – https://www.transylvania-tv.com
FACEBOOK – https://www.facebook.com/transylvaniatv/
IMDB – https://www.imdb.com/title/tt2665394/
PUPPET FORGE – http://www.thepuppetforge.com
PUPPET FORGE TWITTER – http:/twitter.com/forgepuppet
PUPPET FORGE INSTAGRAM – https://instagram.com/thepuppetforge/

Special thanks to the Puppeteers of America for their support in making this show possible. More info at https://www.puppeteers.org

DOWNLOAD THE FREE UNDER THE PUPPET APP!
IOS – https://apple.co/2WZ4uZg
ANDROID – https://bit.ly/2RwcFev
CONNECT WITH THE SHOW
http://www.twitter.com/underthepuppet
http://www.facebook.com/underthepuppet
CONNECT WITH GRANT
http://www.MrGrant.com
http://www.twitter.com/toasterboy
https://instagram.com/throwingtoasters/
Art by Parker Jacobs
Music by Dan Ring
Edited by Stephen Staver
Help us make more shows like this one. Become a patron of Saturday Morning Media and get cool rewards! Visit www.patreon.com/saturdaymorningmedia for info!
©2019 Saturday Morning Media – https://saturdaymorningmedia.com