Nina Keogh (Today's Special, Mr. Dressup, The Santa Clause) – Under The Puppet #53
Podcast: Play in new window | Download (Duration: 1:03:45 — 87.6MB) | Embed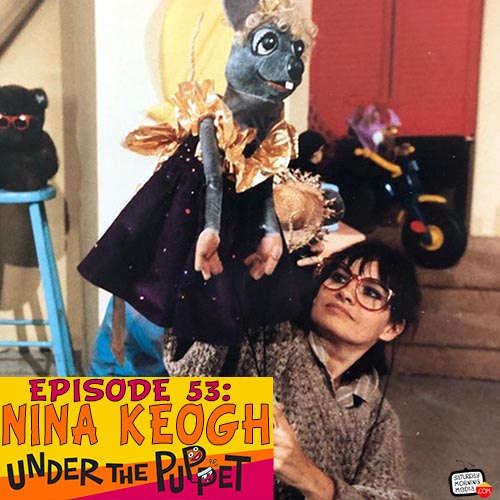 http://www.UnderThePuppet.com – Nina Keogh puppeteered the rhyming Muffy Mouse on the show Today's Special. Her other puppetry credits include work on the iconic Canadian kids shows, The Friendly Giant and Mr. Dressup as well as the 1994 Walt Disney Pictures film The Santa Clause. Some might say that Nina was born into puppetry as both her parents and her grandfather were puppeteers as well. I talk to Nina Keogh about her family's puppetry legacy and her career in this episode of Under The Puppet. Plus, listen to hear how to win a $50 gift card to PuppetPelts.com!
Transcript of this interview is available to the Saturday Morning Media Patreon Patrons!
CONNECT WITH NINA:
IMDB: https://www.imdb.com/name/nm0449059/
WIKIPEDIA: https://en.wikipedia.org/wiki/Nina_Keogh
FACEBOOK: https://www.facebook.com/keoghstudio/
INSTAGRAM: https://www.instagram.com/keoghstudio/
DISCUSSED ON THE SHOW:
DOWNLOAD THE FREE UNDER THE PUPPET APP!
IOS – https://apple.co/2WZ4uZg
ANDROID – https://bit.ly/2RwcFev
CONNECT WITH THE SHOW
http://www.instagram.com/underthepuppet
http://www.twitter.com/underthepuppet
http://www.facebook.com/underthepuppet
CONNECT WITH GRANT
http://www.MrGrant.com
http://www.twitter.com/toasterboy
https://instagram.com/throwingtoasters/
Art by Parker Jacobs
Music by Dan Ring
Edited by Stephen Staver
Help us make more shows like this one. Become a patron of Saturday Morning Media and get cool rewards! Visit www.patreon.com/saturdaymorningmedia for info!
©2020 Saturday Morning Media – http://www.saturdaymorningmedia.com