Steve Hall (Shotgun Red, Nashville Now, Hee Haw) – Under The Puppet #18
Podcast: Play in new window | Download (Duration: 54:16 — 39.3MB) | Embed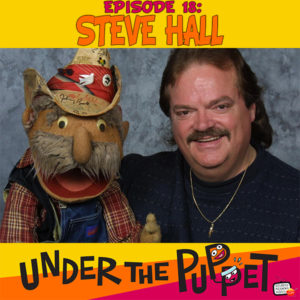 http://www.UnderThePuppet.com – For 10 years, Shotgun Red served as the puppet co-host of Nashville Now. He also spent ten years on Hee Haw and hosted the first country music video program, Country Clips. This episode I chat with Steve Hall about his amazing career puppeteering Shotgun Red. After the interview I talk about local puppet television shows and I'd love to hear your favorites.
CONNECT WITH STEVE
WEBSITE – http://shotgunred.com
IMDB – https://www.imdb.com/name/nm4897178
CONNECT WITH THE SHOW
http://www.twitter.com/underthepuppet
http://www.facebook.com/underthepuppet
CONNECT WITH GRANT
http://www.MrGrant.com
http://www.twitter.com/toasterboy
https://instagram.com/throwingtoasters/
Art by Parker Jacobs
Music by Dan Ring
Edited by Stephen Staver
Help us make more shows like this one. Become a patron of Saturday Morning Media and get cool rewards! Visit www.patreon.com/saturdaymorningmedia for info!
©2018 Saturday Morning Media – https://saturdaymorningmedia.com