Bruce Lanoil (The Muppets, Dinosaurs, Jim Henson Company) – Under The Puppet #10
Podcast: Play in new window | Download (Duration: 56:56 — 41.0MB) | Embed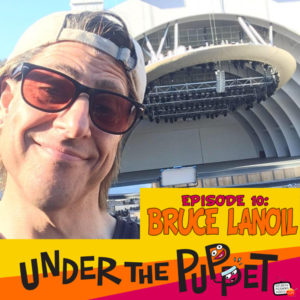 http://www.UnderThePuppet.com – This month I interview puppeteer Bruce Lanoil. We speak of his work with The Muppets where he worked alongside Frank Oz, Dave Goelz, Jerry Nelson and more. We also cover his work on the film Monkeybone, his first job in puppetry and his voiceover career. After the interview, I talk about two fun books on puppet building by puppeteer John Kennedy. Check out Puppet Mania! and Puppet Planet on Amazon.
CONNECT WITH BRUCE
IMDB – http://www.imdb.com/name/nm0487010/
DEMO REEL – https://youtu.be/4ZMSb6V3j3s
CONNECT WITH THE SHOW
http://www.twitter.com/underthepuppet
http://www.facebook.com/underthepuppet
http://www.twitter.com/underthepuppet
CONNECT WITH GRANT
http://www.MrGrant.com
http://www.twitter.com/toasterboy
https://instagram.com/throwingtoasters/
Art by Parker Jacobs
Music by Dan Ring
Help us make more shows like this one. Become a patron of Saturday Morning Media and get cool rewards! Visit www.patreon.com/saturdaymorningmedia for info!
©2017 Saturday Morning Media – https://saturdaymorningmedia.com