Paul Fusco (ALF, Dumbo's Circus, Space Cats) – Under The Puppet #23
Podcast: Play in new window | Download (Duration: 56:27 — 39.1MB) | Embed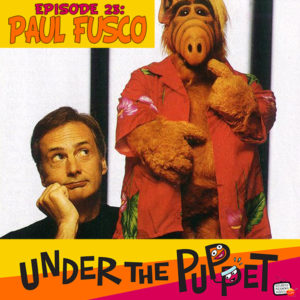 http://www.UnderThePuppet.com – Paul Fusco is the creator and puppeteer of one of the most recognizable puppets in the world, ALF. In this interview, I talk with Paul about the creation of ALF, his work with Disney on Dumbo's Circus, his post-ALF show Space Cats and more. There is a lot of good advice in here for creators who'd like to build a world around their puppet characters.
MENTIONED ON THE SHOW:
ALF ON GOOD MORNING AMERICA – https://youtu.be/4mXA3N28ViU
SPACE CATS – https://youtu.be/agIoX9r_5nM

CONNECT WITH THE SHOW
http://www.twitter.com/underthepuppet
http://www.facebook.com/underthepuppet
CONNECT WITH GRANT
http://www.MrGrant.com
http://www.twitter.com/toasterboy
https://instagram.com/throwingtoasters/
Art by Parker Jacobs
Music by Dan Ring
Edited by Stephen Staver
Help us make more shows like this one. Become a patron of Saturday Morning Media and get cool rewards! Visit www.patreon.com/saturdaymorningmedia for info!
©2018 Saturday Morning Media – https://saturdaymorningmedia.com