John Tartaglia (Avenue Q, Sesame Street, Splash & Bubbles) – Under The Puppet #25
Podcast: Play in new window | Download (Duration: 59:34 — 41.2MB) | Embed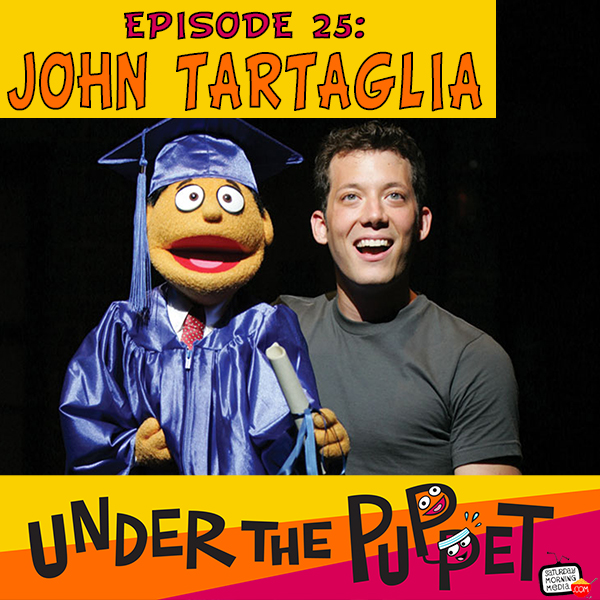 http://www.UnderThePuppet.com – John Tartaglia worked on Sesame Street when he was just 16 years old. He went on to star in Avenue Q which earned him a Tony Award Nomination. He then created and starred in Johnny and the Sprites for Playhouse Disney and Splash & Bubbles for The Jim Henson Company. I talk to John about all this and more in this interview.
MORE ABOUT JOHN:
TWITTER – https://twitter.com/johnnytartags
INSTAGRAM – https://www.instagram.com/johnnytartags
IMDB – https://www.imdb.com/name/nm1437776/

MENTIONED ON THE SHOW:
AVENUE Q – https://en.wikipedia.org/wiki/Avenue_Q
JOHNNY AND THE SPRITES – https://en.wikipedia.org/wiki/Johnny_and_the_Sprites
SPLASH & BUBBLES – https://en.wikipedia.org/wiki/Splash_and_Bubbles
CONNECT WITH THE SHOW
http://www.twitter.com/underthepuppet
http://www.facebook.com/underthepuppet
CONNECT WITH GRANT
http://www.MrGrant.com
http://www.twitter.com/toasterboy
https://instagram.com/throwingtoasters/
Art by Parker Jacobs
Music by Dan Ring
Edited by Stephen Staver
Help us make more shows like this one. Become a patron of Saturday Morning Media and get cool rewards! Visit www.patreon.com/saturdaymorningmedia for info!
©2019 Saturday Morning Media – https://saturdaymorningmedia.com