Annett Mateo (Seattle Children's Theatre, Puppetlandia, Cotton Gin) – Under The Puppet #21
Podcast: Play in new window | Download (Duration: 1:02:58 — 43.6MB) | Embed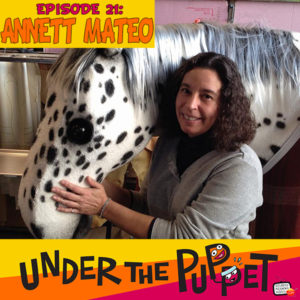 http://www.UnderThePuppet.com – Recorded live at Felt-A-Con in Seattle, Washington, this is a wonderful interview with puppeteer and builder Annett Mateo who is the Master Puppet Artisan for Seattle's Children's Theatre. She also owns her own puppet building company Puppetlandla. In this interview we talk about her career and many of the projects she has worked on.
CONNECT WITH ANNETT:
WEBSITE – http://puppetlandia.com
TWITTER – https://twitter.com/Puppetlandia
CROW PUPPET VIDEO – https://youtu.be/HZppvGha6vM
CONNECT WITH THE SHOW
http://www.twitter.com/underthepuppet
http://www.facebook.com/underthepuppet
CONNECT WITH GRANT
http://www.MrGrant.com
http://www.twitter.com/toasterboy
https://instagram.com/throwingtoasters/
Art by Parker Jacobs
Music by Dan Ring
Edited by Stephen Staver
Help us make more shows like this one. Become a patron of Saturday Morning Media and get cool rewards! Visit www.patreon.com/saturdaymorningmedia for info!
©2018 Saturday Morning Media – https://saturdaymorningmedia.com