At Saturday Morning Media, we want to provide you with the easiest ways to get our content! Whether that's enjoying our content here at the website, subscribing to our podcasts via iTunes or Stitcher or by downloading one of our free apps! Our apps are fun because we can provide bonus content (outtakes, scripts, additional audio or video) that we can't put anywhere else.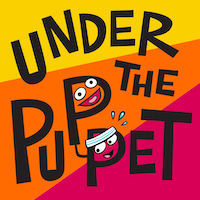 Free Under The Puppet App!
All your favorite Under The Puppet episodes in one handy app! You also get new episodes early, before their release! Also, exclusive bonus episodes, extras and more! This is THE way to experience Under The Puppet and it's absolutely FREE!
Download the Under The Puppet app now:

NOTE: Even though it may say that the apps offer 'In App Purchases' on some of the listings, it does not. All content, including exclusives, are absolutely free.