Mysterious Mysteries of Toby Taylor The Fruit Magician!
Young Toby Taylor is known world-wide as The Fruit Magician. A master illusionist who can perform feats of astonishing prestidigitation, Toby Taylor eschews the traditional tools of the trade, rabbits, linking rings and uses only the freshest of fruit in his act! Toby has another talent as well...solving mysteries! With his lovely assistant, and devoted sister, Rebbecca at his side there is no Mystery that can't be cracked by Toby Taylor, The Fruit Magician!  From the creator of The Radio Adventures of Dr. Floyd!
Podcast: Play in new window | Download (Duration: 11:00 — 11.3MB) | Embed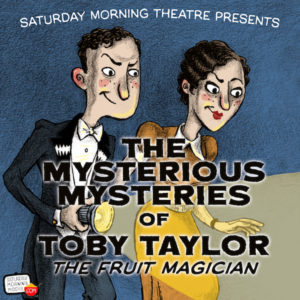 http://www.FruitMagician.com – Chapter 3 of 3. In the Season 1 finale, Rebecca and Toby crack the case of the missing Prized Potato!
SERIES CAST
Molly Fite as Rebecca Taylor
Vanessa Whitney as Mrs. Jamison
Dan Garza as Mr. Mowrey
Chris Sheets as Mr. Packard
Clinton Alvord as Fenton Lomax
Alison Mork as Dr. Peele
Grant Baciocco as Toby Taylor
and Kevin Berntson as The Narrator
Sound Design by Christopher Green of GreenStreams Studio – www.greenstreamsstudio.ca
Music by Dan Ring
What did you think of Toby Taylor? Let us know at hello@saturdaymorningmedia.com.
Help us make more shows like this one. Become a patron of Saturday Morning Media and get cool rewards! Visit http://patreon.com/saturdaymorningmedia for info!
FOLLOW US
http://facebook.com/saturdaymorningmedia
http://www.twitter.com/SaturdayMMedia
https://plus.google.com/+Saturdaymorningmedia
https://www.linkedin.com/company/saturday-morning-media
http://www.youtube.com/user/SaturdayMorningMedia?sub_confirmation=1
FOLLOW GRANT BACIOCCO
http://www.MrGrant.com
http://www.twitter.com/toasterboy
https://instagram.com/throwingtoasters/
SUBSCRIBE
http://www.youtube.com/user/SaturdayMorningMedia?sub_confirmation=1