Under The Puppet is a monthly show that talks to professional puppeteers about the business of puppetry to help aspiring puppeteers turn pro!  Hosted by Grant Baciocco (The Jim Henson Company, Mystery Science Theatre 3000).
SUBSCRIBE: Apple Podcasts | Spotify | Stitcher | RSS
Podcast: Play in new window | Download (Duration: 26:32 — 36.5MB) | Embed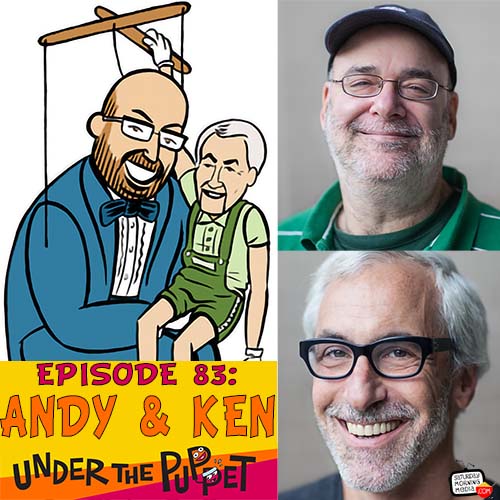 http://www.UnderThePuppet.com –
Andy Breckman is television and film writer who created the Emmy Award Winning television series Monk. Ken Freedman is the station manager of WFMU, an independent free form radio station in New Jersey. For over 30 years, Andy and Ken have hosted Seven Second Delay, a stunt radio program that airs every Wednesday on WFMU. I sit down and talk to these two non-puppeteers on this episode of Under The Puppet.
Download the free Under The Puppet app for iOS & Android!
IOS – https://apple.co/2WZ4uZg
ANDROID – https://bit.ly/2RwcFev
Also, this month you can win signed WFMU stickers and a hardcover copy of Bill Baird's Art of the Puppet! Listen to find out how to enter.
Transcript of this interview is available to the Saturday Morning Media Patreon Patrons!
Connect with Andy & Ken:
Website – http://www.wfmu.org/7sd/
IMDB – https://www.imdb.com/name/nm0106563/
Discussed on the show:
Andy is a Puppet – https://www.wfmu.org/playlists/shows/36286
Red Pepper – https://youtu.be/yJwiZjH8a1Y
Muppet Babies – https://en.wikipedia.org/wiki/Muppet_Babies_(1984_TV_series)
Paul Lewis – https://saturdaymorningmedia.com/2023/03/utp-81/
Mallory Lewis – https://saturdaymorningmedia.com/2022/11/utp-77/
Phillip Huber – https://saturdaymorningmedia.com/2018/06/utp-17/
Willie Tyler – https://saturdaymorningmedia.com/2021/01/utp-55/
Connect with the Show:
http://www.instagram.com/underthepuppet
https://www.facebook.com/underthepuppet
http://www.twitter.com/underthepuppet
Connect with Grant:
http://www.MrGrant.com
http://www.twitter.com/toasterboy
https://instagram.com/throwingtoasters/
Art by Parker Jacobs
Music by Dan Ring
Edited by Stephen Staver
Help us make more shows like this one. Become a patron of Saturday Morning Media and get cool rewards! Visit www.patreon.com/saturdaymorningmedia for info!
©2023 Saturday Morning Media – http://www.saturdaymorningmedia.com