Roger Rabbit's Car Toon Spin UPDATED – Disneyland – Attraction Checklist #148
Podcast: Play in new window | Download (Duration: 11:55 — 16.5MB) | Embed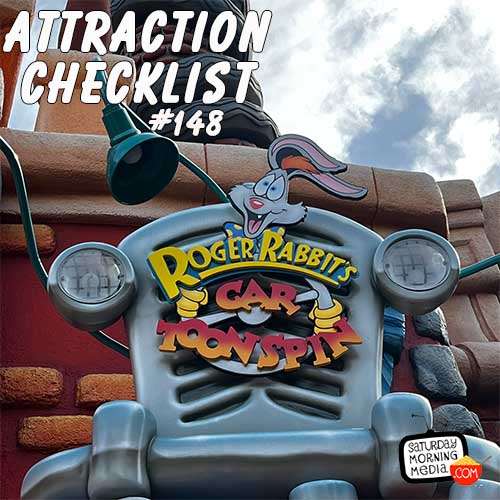 http://www.attractionchecklist.com –
It's time to see what changes were made to Disneyland's Roger Rabbit's Car Toon Spin on this episode of Attraction Checklist. Attraction audio recorded on July 31, 2023.
TRANSCRIPT:
Welcome to Attraction Checklist.
This episode takes us to Toontown in Disneyland to see the updated Roger Rabbit's Car Toon Spin.
We covered this attraction back in episode 82 of Attraction Checklist but here are a few more fast facts about the recent updates.
1. In December of 2021, several changes were made to the attraction, the main one being the addition of a storyline featuring Jessica Rabbit. In the previous incarnation of the ride she was seen as more of a damsel in distress in the opening scene. The update finds her in charge, helping stop the Weasels in her new bright yellow trench coat and fedora.
2. When Toontown closed for the addition of Mickey & Minnie's Runaway Railway, Roger Rabbit's Car Toon Spin got a refurbishment with some polish and effect tweaks. The updated version opened on March 19, 2023.
Now let's go ride the updated Roger Rabbit's Car Toon Spin. John B. deHaas is along for the fun and we'll give you our thoughts on the updates after we ride. This is a binaural recording so if you have headphone put them on now as we ride Roger Rabbit's Car Toon Spin at Disneyland.
The attraction audio recorded for this episode is available exclusively to the Saturday Morning Media Patron Patron. Support the show and get fun Bonus content over at http://www.patreon.com/saturdaymorningmedia
Episode edited by Stephen Staver
FOLLOW US
https://www.instagram.com/attractionchecklist/
http://www.twitter.com/SaturdayMMedia
https://www.linkedin.com/company/saturday-morning-media
http://www.youtube.com/user/SaturdayMorningMedia?sub_confirmation=1
FOLLOW GRANT
http://www.MrGrant.com
http://www.twitter.com/toasterboy
https://instagram.com/throwingtoasters/
SOURCES:
https://disneyland.disney.go.com/attractions/disneyland/roger-rabbits-car-toon-spin/
https://en.wikipedia.org/wiki/Roger_Rabbit%27s_Car_Toon_Spin
Show ©2023 Saturday Morning Media/Grant Baciocco