Grant's Advent Calendar 2011 Debuts!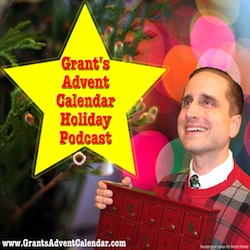 FOR IMMEDIATE RELEASE
The Web's Longest Running Holiday Podcast Is Back For 2011!
Burbank, CA – Since 2005, Grant's Advent Calendar Video Podcast has given viewers a daily dose of holiday joy each December.  The award winning podcast is back for 2011 and promises to raise the bar even further for holiday fun.
In December of 2003, show creator Grant Baciocco started a photo blog of the items he received in the wooden Advent Calendar he received from his mother.  In 2005, he turned the project into a video podcast that chronicled the daily opening of the calendar doors.  It has gone on to garner a 2011 Parsec Award for BEST VIDEO PODCAST and has been downloaded close to 70,000 times.
The podcast produced with a strict set of rules:
1.  The door can only be open on the day it should be open.  There's no advance opening of the doors.
2. All videos must be shot in one take.
3. Videos must be posted to www.GrantsAdventCalendar.com by 11:59pm of the day it's shot.
Within these constrains, Baciocco has been able to create a holiday video podcast unlike any other.  Often enlisting his friends and even celebrities to help him open the doors on his calendar, there are fans who start mentioning the upcoming calendar as early as August.
There's no corporate motive behind the show, Baciocco does it solely to spread holiday cheer with families as they count down the day until Christmas.
The show can be viewed at www.GrantsAdventCalendar.com
iTunes user can subscribe via THIS LINK.