2019 Advent Calendar Contest
The 2019 ADVENT CALENDAR CONTEST
Hear Ye Hear Ye –
WHEREAS
the Advent Calendar Commission has been duly notified of your filming schedule this Advent Calendar Season AND
WHEREAS 
the Advent Calendar Commission is aware that said schedule may impact the personal time available for filming sketches, arranging guests, editing videos, etc.  AND
WHEREAS
  the dedicated audience of the Advent Calendar is, without question, entitled to an engaging and rewarding daily, door-opening experience,
LET  IT  BE  KNOWN  TO ALL
, far and wide, that in order to ensure an entertaining Advent Calendar door opening each day, the Advent Calendar Commission has arranged a daily activity with each door opening for days 1 through 15.  Each door opening for days 1 through 14  will include a riddle or a puzzle or a question to be answered by the Advent Calendar VIEWERS.  Everyone who comments with correct answers by
Midnight on December 14,  2019
will be entered in the day 15 drawing!  One correct answer per day for 14 days, equals up to 14 chances to enter!     The winner will be chosen at random from all of the correct entries and the lucky winner on day 15 will get this holiday goodie bag and become part of Advent Calendar history!
A.C.C. 2019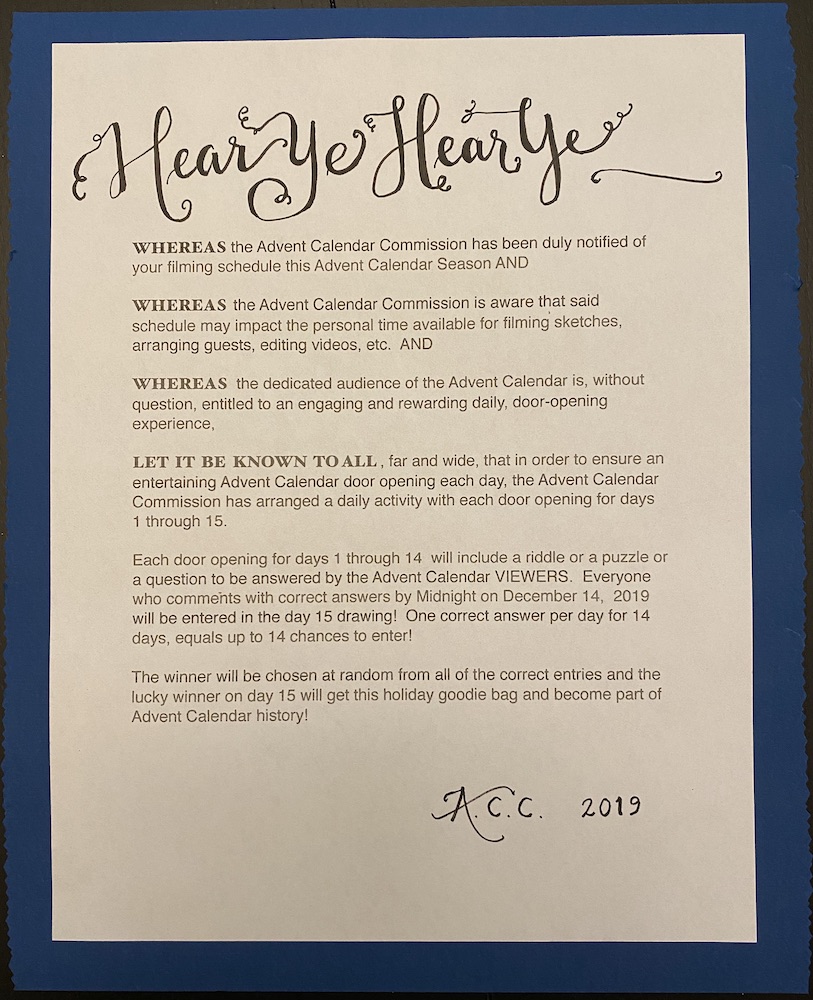 THE FINE PRINT
Comments may be made on YouTube, Facebook or GrantsAdventCalendar.com (SaturdayMorningMedia.com).
All comments must be made by 12:00 AM Pacific on SATURDAY, DECEMBER 14, 2018.
All submissions become property of Grant Baciocco & Saturday Morning Media and may be used in Advent Calendar videos and promotion.
Submissions may be edited for time and content.
Only one entry per person.  Multiple entries per family are more than welcome.
Not responsible for lost or misdirected submissions.
Grant reserves the right to modify these rules at any time and disqualify entries that don't fit the family friendly theme of the podcast.
Questions? E-mail grantsadvent@gmail.com
—
PAST CONTEST WINNERS
2007 'Hey Everybody!' Contest
– Betty – Clear Lake, CA
2008 Holiday Washing Machine Contest
– T-rent – Michigan
2009 Advent Calendar In Your Laundry Room Contest
– Marina – Spain
2010 You Are Grant Contest
– Nikolai & Caleb – Chicago, Il
2011 Design Grant's T-Shirt Contest
– Robyn – Modesto, CA
2012 Advent Calendar Art Contest
– Wheeler – Kings Mountain, NC
2013 Flat Grantley Photo Contest – Christian S. – New Britain, CT
2014 Crazy Holiday Decoration Contest – Kylie
2015 Minimalist Contest – Blake P.
2016 Name Contest – Jack R. – Sheboygan, WI
2017 Fill In 
The
 Blank Contest – Todd M. – Stockbridge, GA
2018 Unscramble The Letters Contest – Jeff P. – Fullerton, CA