Disney's KiteTales – Disney's Animal Kingdom – Attraction Checklist #149
Podcast: Play in new window | Download (Duration: 11:50 — 16.4MB) | Embed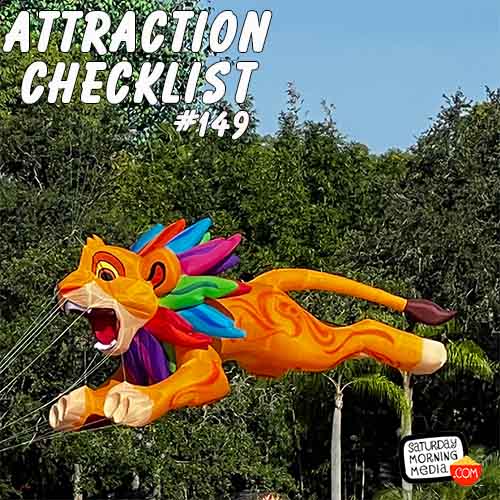 http://www.attractionchecklist.com – For a short time Disney's Animal Kingdom at Walt Disney World had a daytime show called Disney's KiteTales. We take a look at this now defunct show on this episode of Attraction Checklist.
Attraction audio recorded on July 17, 2022.
TRANSCRIPT:
Welcome to Attraction Checklist.
This episode we go back in time to Disney's Animal Kingdom at Walt Disney World to experience the show Disney's KiteTales.
There were no age or height requirements for this attraction and the show was described by saying, "Hearts and imaginations will soar as incredible kites and windcatchers dance through the air to the beat of beloved Disney songs during this high-flying performance at Disney's Animal Kingdom theme park."
Before we watch the kites take to the sky, here are 5 fast facts about Disney's KiteTales.
1. Disney KiteTales debuted at the Discovery River Theater in Animal Kingdom on October 1, 2021.
2. Performances of Disney's KiteTales happened several times a day and alternated between a few different shows. One show was focused round The Jungle Book and features songs such as The Bare Necessities, Colonel Hathi's March and I wanna be Like You.
3. The second show, the show featured in this episode's recording, was centered around The Lion King and featured songs like I Just Can't Wait To Be King, Hakuna Matata and Circle of Life. As the shows went on and popularity of the show waned, songs were cut from both shows.
4. The show employed six jet-skis that pulled 30 foot long kites around the lagoon during the show while performers with smaller kites performed around the water's edge.
5. Disney's KiteTales had its final performance on September 30, 2022.
Let's go pay tribute to the long gone Disney's KiteTales. After the attraction audio, I'll give you my thoughts on this attraction. This is a binaural recordings so if you have headphone put them on now as we experience Disney's KiteTales at Disney's Animal Kingdom.
The attraction audio recorded for this episode is available exclusively to the Saturday Morning Media Patron Patron. Support the show and get fun Bonus content over at http://www.patreon.com/saturdaymorningmedia
Episode edited by Stephen Staver
FOLLOW US
https://www.instagram.com/attractionchecklist/
http://www.twitter.com/SaturdayMMedia
https://www.linkedin.com/company/saturday-morning-media
http://www.youtube.com/user/SaturdayMorningMedia?sub_confirmation=1
FOLLOW GRANT
http://www.MrGrant.com
http://www.twitter.com/toasterboy
https://instagram.com/throwingtoasters/
SOURCES:
https://www.wdwmagic.com/attractions/disney-kitetails/news/28sep2021-first-impressions-of-disney-kitetails-at-disneys-animal-kingdom.htm
https://disney.fandom.com/wiki/Disney_KiteTails
Show ©2023 Saturday Morning Media/Grant Baciocco