Dumbo the Flying Elephant – Disneyland – Attraction Checklist #99
Podcast: Play in new window | Download (Duration: 11:31 — 8.0MB) | Embed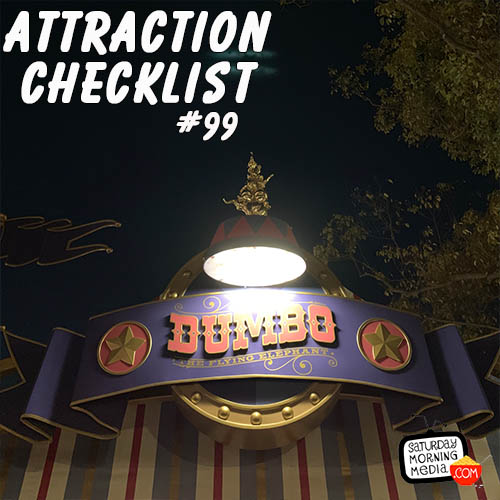 http://www.attractionchecklist.com – This episode we head to Disneyland to ride and review Dumbo the Flying Elephant! Recorded on February 7, 2019.
TRANSCRIPT:
Welcome to Attraction Checklist.
This episode we head to Fantasyland in Disneyland to ride, Dumbo the Flying Elephant! The Disneyland Resort website describes this attraction saying: Soar high in the sky aboard the famous little pachyderm on a fanciful flight for all ages.
There are no age or height requirements for this attraction and Thrill Level describes it as a Slow Spinning Ride.
Before we grab out magic feathers, here are five fast facts about Disneyland's Dumbo the Flying Elephant.
1. Though the ride was installed in Fantasyland on Opening day in July of 1955, Dumbo the Flying Elephant was not ready for flight. According to the Walt Disney Archives, it opened one month laters on August 16, 1955.
2. The ride vehicles on the attraction can soar up to 17ft above the ground.
3. According to the Disney Park Blog, when President Harry S. Truman visited the park he refused to ride the attraction because the elephant is the symbol of the Republican Party and he was a staunch democrat.
4. In 1983, during the big remodel of Disneyland's Fantasyland, the attraction was moved from near the Storybookland Canal Boats to it's currently location, the former home of Skull Rock.
5. The band organ located under the circus tent behind Dumbo the Flying Elephant was built in 1915
Now let's go Ride Dumbo the Flying Elephant. Joining me today is Suzie and after we ride we'll give you our thoughts on this attraction. This is a binaural recording so if you have headphones put them on now as we ride Dumbo the Flying Elephant at Disneyland!
The attraction audio recorded for this episode is available exclusively to the Saturday Morning Media Patron Patron. Support the show and get fun Bonus content over at http://www.patreon.com/saturdaymorningmedia
Episode edited by Stephen Staver
FOLLOW US
http://www.facebook.com/attractionchecklist
http://www.facebook.com/saturdaymorningmedia
http://www.twitter.com/SaturdayMMedia
https://plus.google.com/+Saturdaymorningmedia
https://www.linkedin.com/company/saturday-morning-media
http://www.youtube.com/user/SaturdayMorningMedia?sub_confirmation=1
FOLLOW GRANT
http://www.MrGrant.com
http://www.twitter.com/toasterboy
https://instagram.com/throwingtoasters/
SOURCES:
https://disneyland.disney.go.com/attractions/disneyland/dumbo-the-flying-elephant/
https://d23.com/this-day/dumbo-the-flying-elephant-attraction-opens-at-disneyland/
https://en.wikipedia.org/wiki/Dumbo_the_Flying_Elephant
Show ©2020 Saturday Morning Media/Grant Baciocco