Primeval Whirl – Disney's Animal Kingdom – Attraction Checklist #96
Podcast: Play in new window | Download (Duration: 11:09 — 10.5MB) | Embed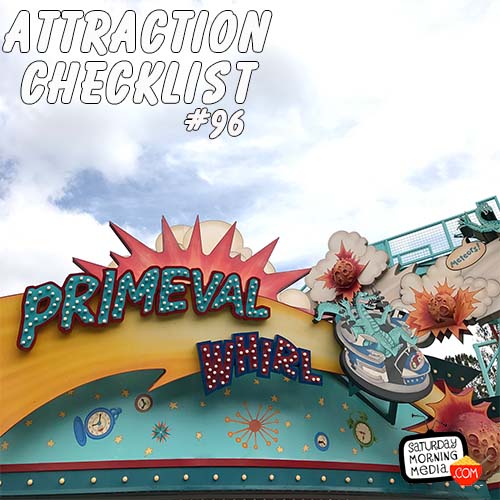 http://www.attractionchecklist.com – Thank you for 5 years of Attraction Checklist! To kick off Season 5, join Grant as he visits Disney's Animal Kingdom to ride and review Primeval Whirl! Recorded on October 27, 2016.
TRANSCRIPT:
Welcome to Attraction Checklist.
This episode we are off to Dinoland U.S.A. in Disney's Animal Kingdom to ride Primeval Whirl! The guide map describes this attraction by saying: Spin and slide through curves and drops on this time-machine coaster. Guests must be 48" tall in order to ride this attraction and FastPass+ is available.
The Thrill Level describes this attraction by calling it a Thrill Ride with small drops and spinning.
Before we check out those small drops and spinning for ourselves, here are five fast facts about Primeval Whirl and Disney's Animal Kingdom.
1. Primeval Whirl opened at Disney's Animal Kingdom on March 31, 2002.
2. Primeval Whirl was the first roller coaster at Disney's Animal Kingdom having debuted before the wildly popular Expedition Everest.
3. Primeval While is what is known as a Wild Mouse style roller coaster. It was purchased by Disney from coaster designer Reverchon Industries.
4. The literal high point of this attraction is 42.7 Feet tall and cars reach a speed of 29.1 Miles Per Hour as they travel down the 1,377.9 feet of track. And Since the cars on this attraction spin as they move along the track, guests can experience G-Forces up to 2.5 G's!
5. In September 2019, Disney announced this attraction would slip in Seasonal Operation meaning it would only open during peak attendance days. Many have said this signals the attraction might be on the chopping block. While nothing official has been announced, we're happy to preserve it a little here on Attraction Checklist if it is on its way towards extinction.
Now let's give Primeval Whirl a spin. After the attraction audio I'll give you my thoughts on this attraction. This is a binaural recording, which will make the spinning extra fun. If you have headphones, put them on now as we ride Primeval Whirl at Disney's Animal Kingdom.
The attraction audio recorded for this episode is available exclusively to the Saturday Morning Media Patron Patron. Support the show and get fun Bonus content over at http://www.patreon.com/saturdaymorningmedia
Episode edited by Stephen Staver
FOLLOW US
http://www.facebook.com/attractionchecklist
http://www.facebook.com/saturdaymorningmedia
http://www.twitter.com/SaturdayMMedia
https://plus.google.com/+Saturdaymorningmedia
https://www.linkedin.com/company/saturday-morning-media
http://www.youtube.com/user/SaturdayMorningMedia?sub_confirmation=1
FOLLOW GRANT
http://www.MrGrant.com
http://www.twitter.com/toasterboy
https://instagram.com/throwingtoasters/
SOURCES:
https://disneyworld.disney.go.com/attractions/animal-kingdom/primeval-whirl/
https://en.wikipedia.org/wiki/Primeval_Whirl
Show ©2020 Saturday Morning Media/Grant Baciocco