Millennium Falcon: Smugglers Run – Disneyland – Attraction Checklist #73
Podcast: Play in new window | Download (Duration: 37:45 — 26.0MB) | Embed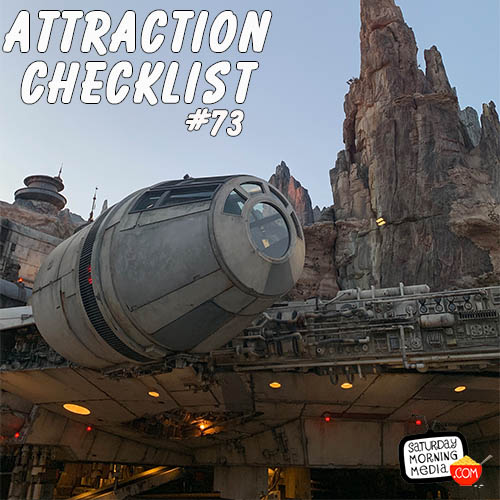 http://www.attractionchecklist.com – In this episode we visit Galaxy's Edge at Disneyland to take THREE rides on Millennium Falcon: Smugglers Run Recorded on June 3, 2019.
TRANSCRIPT:
Welcome to Attraction Checklist.
This is a special supersized episode of Attraction Checklist as we celebrate the opening of Galaxy's Edge with not one but THREE rides on the brand new attraction Millennium Falcon: Smugglers Run!
The guidemap describes this attraction by saying: Fly the Millennium Falcon on a thrilling interactive smuggling mission. Guests must be 38" or taller in order to ride and the Thrill Level describes the ride as being a thrill ride with small drops that is Dark and Loud. FastPass will eventually be available for this attraction and there is a single rider line.
Before we get our marching orders from Hondo, here are five fast facts about Millennium Falcon: Smugglers Run.
1. Though fans knew a Millennium Falcon attraction was being built for Galaxy's Edge, it didn't receive its official name, Millennium Falcon: Smugglers Run, until November 17, 2018 when it was announced at Destination D.
2. After going through some early previews, the ride officially opened to the public at Disneyland on May 31, 2019.
3. The storyline of the attraction puts it immediately after 2017's The Last Jedi. Chewbacca has brought the Millennium Falcon to Black Spire Outpost to receive some repairs after the events in that film.
4. The animatronic of Hondo that is featured in the preshow area of the attraction is one of the most advanced, next generation A1000 Animatronics ever built. It features 51 total functions, 10 in the head alone! Taking a cue from Ben Franklin and Olaf, this animatronic even appears to take a few steps as if walking!
5. The outcome of the attraction depends on how well you and your crew work as a team and because of that there can be little variations in the film and the on ride dialogue. Another difference depends on when you ride the attraction. If it's during the day, you take off during the day. Ride the attraction at night, and you take of a night. A great little detail.
Well now let's ride Millennium Falcon: Smugglers Run. I have three versions of the ride for you. We will skip the queue and go right to the ride for my first ride and review. Then we'll check out the queue and the preshow for my third ride through the attraction. The first and third rides have different outcomes so listen for those. Finally, I was fortunate enough to get to ride the attractions SOLO! So that audio will bring up the rear. In addition to my reviews, I have a special review with Paul Barrie of the Window To The Magic Podcastat the very end of this episode. And one last thing, if you'l like to hear 50 minutes of me describing my entire, two day, trip to Galaxy's Edge, it is available as a bonus episode to the Saturday Morning Media Patreon Patron who pledge $5 or more a month. Okay, let's hit the hyper drive! This is a binaural recording so if you have headphones, put them on now as we experience Disneyland's Millennium Falcon: Smugglers Run!
The attraction audio recorded for this episode is available exclusively to the Saturday Morning Media Patron Patron. Support the show and get fun Bonus content over at http://www.patreon.com/saturdaymorningmedia
Episode edited by Stephen Staver
FOLLOW US
http://www.facebook.com/attractionchecklist
http://www.facebook.com/saturdaymorningmedia
http://www.twitter.com/SaturdayMMedia
https://plus.google.com/+Saturdaymorningmedia
https://www.linkedin.com/company/saturday-morning-media
http://www.youtube.com/user/SaturdayMorningMedia?sub_confirmation=1
FOLLOW GRANT
http://www.MrGrant.com
http://www.twitter.com/toasterboy
https://instagram.com/throwingtoasters/
DISNEYLAND WEBSITE
https://disneyland.disney.go.com/attractions/disneyland/millennium-falcon-smugglers-run/
WIKIPEDIA
https://en.wikipedia.org/wiki/Millennium_Falcon:_Smugglers_Run
Show ©2019 Saturday Morning Media/Grant Baciocco