Mickey's Philharmagic – Disney California Adventure – Attraction Checklist #72
Podcast: Play in new window | Download (Duration: 21:52 — 15.1MB) | Embed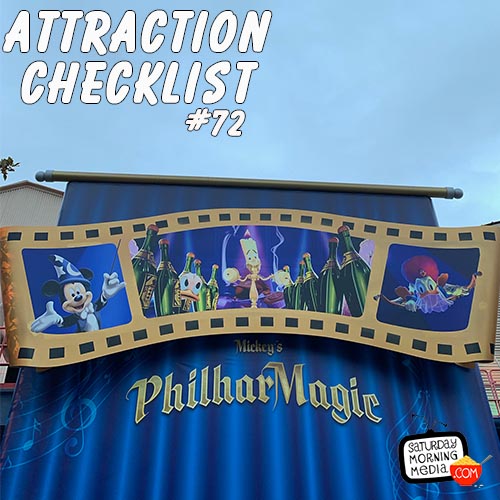 http://www.attractionchecklist.com – Mickey's PhilharMagic has made its way into Disney California Adventure. Will it receive a standing ovation? Grant reviews it in this episode! Recorded on May 13, 2019.
TRANSCRIPT:
Welcome to Attraction Checklist.
This episode we check out the latest show offering at Disney California Adventure, Mickey's PhilharMagic! Located in Hollywood Land in Disney California Adventure Park, Mickey's PhilharMagic is described on the Disneyland Resort website by saying: Immerse yourself in the wonder of Disney animation and music when you experience this 12-minute, 3D movie starring Donald Duck. There are no age or height requirements for this attraction.
Before we don our opera glasses, here are five fast facts about Mickey's PhilharMagic.
1. Mickey's PhilharMagic opened at Disney California Adventure on April 26, 2019.
2. The first iteration of Mickey's PhilharMagic opened at Walt Disney World in October of 2003 in a specially built theater. Because the former MuppetVision 3D theater in California Adventure is smaller, a smaller version of the film is used. This is similar to the version that opened in Disneyland Paris in 2018.
3. The attraction is the second collaboration between Walt Disney Imagineering and Walt Disney Animation Studios, the first being the nighttime spectacular Fantastic!
4. Most of Donald Duck's dialogue used in the film is archival recordings of Donald's original voice actor, Clarence Nash.
5. The Little Mermaid animator, Glen Keane returned to render Ariel in 3D for the attraction and Beauty and the Beast animator Nik Ranieri returned to animate Lumiere.
Now let's check out Mickey's PhilharMagic! After the performance, I'll share my thoughts with you on this attraction and this is recorded in binaural audio so you'll want to put on your headphones! Here is Mickey's PhilharMagic at Disney California Adventure!
The attraction audio recorded for this episode is available exclusively to the Saturday Morning Media Patron Patron. Support the show and get fun Bonus content over at http://www.patreon.com/saturdaymorningmedia
Episode edited by Stephen Staver
FOLLOW US
http://www.facebook.com/attractionchecklist
http://www.facebook.com/saturdaymorningmedia
http://www.twitter.com/SaturdayMMedia
https://plus.google.com/+Saturdaymorningmedia
https://www.linkedin.com/company/saturday-morning-media
http://www.youtube.com/user/SaturdayMorningMedia?sub_confirmation=1
FOLLOW GRANT
http://www.MrGrant.com
http://www.twitter.com/toasterboy
https://instagram.com/throwingtoasters/
DISNEYLAND WEBSITE
https://disneyland.disney.go.com/attractions/disney-california-adventure/mickeys-philharmagic/
WIKIPEDIA
https://en.wikipedia.org/wiki/Mickey%27s_PhilharMagic
Show ©2019 Saturday Morning Media/Grant Baciocco