TRON Lightcycle / Run – Magic Kingdom – Walt Disney World – Attraction Checklist #143
Podcast: Play in new window | Download (Duration: 33:16 — 45.8MB) | Embed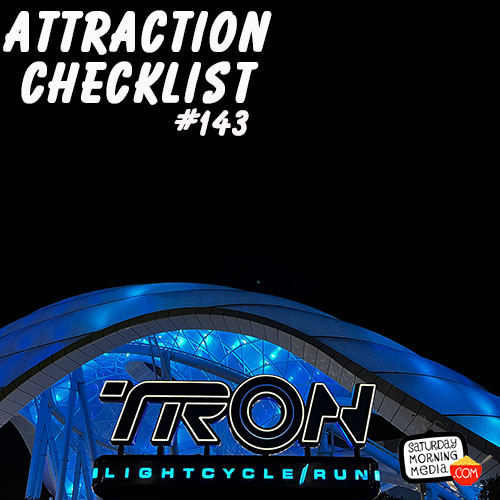 http://www.attractionchecklist.com –
It's time to enter the grid as we heard to Walt Disney World to preview TRON Lightcycle / Run at Magic Kingdom on this episode of Attraction Checklist.
Attraction audio recorded on February 23, 2023.
TRANSCRIPT:
Welcome to Attraction Checklist.
This episode we visit Magic Kingdom in Walt Disney World to preview TRON Lightcyle / Run.
This attraction is not listed in the Magic Kingdom guidemap at the time of this recording but the Walt Disney World Website describes it by saying, "Speed across a world with no horizons in a high-stakes race based on the Disney sci-fi film TRON: Legacy."
Guests must be 48 inches or taller in order to ride and the Thrill Level describes the attraction as being a Thrill Ride in the Dark with Big Drops.
Before we join Team Blue for our run, here are five fast facts about TRON Lightcycle / Run.
1. Tron Lightcycle / Run is a copy of an attraction located in Shanghai Disneyland where it's called Tron Lightcycle Power Run. The Shanghai version of the attraction opened on June 16, 2016. On July 15, 2017, Disney announced that Magic Kingdom would be getting its own version of the ride. Originally scheduled to open in time for Walt Disney World's 50th Anniversary, the opening was pushed back due to the COVID 19 Pandemic. The ride is schedule to officially open on April 4, 2023.
2. The attraction features a track that is 3,169 ft (or 966 meters) long and has a peak height of 78.1 ft (or 23.8 meters)
3. The attraction reaches speeds of nearly 60 miles per hour, the fastest for any Disney Roller Coaster.
4. The attraction features 7 trains with 7 cars per train. While most of the seats on the attraction feature the lightcycle seating, a few of the trains have regular roller coaster seats in the back with a traditional lap bar for those who don't want the bike experience.
5. According to WIkiPedia, the music heard on the attraction was created by Joseph Trapanese and Daft Punk.
Let's ride TRON Lightcycle / Run. Argon for the ride is John B. deHaas and Shawn Walsh and after we ride we'l give you our thoughts on this attraction. This is a binaural recording so if you have headphones put them on now as we preview TRON Lightcycle / Run at Walt Disney World's Magic Kingdom.
The attraction audio recorded for this episode is available exclusively to the Saturday Morning Media Patron Patron. Support the show and get fun Bonus content over at http://www.patreon.com/saturdaymorningmedia
Episode edited by Stephen Staver
FOLLOW US
https://www.instagram.com/attractionchecklist/
http://www.twitter.com/SaturdayMMedia
https://www.linkedin.com/company/saturday-morning-media
http://www.youtube.com/user/SaturdayMorningMedia?sub_confirmation=1
FOLLOW GRANT
http://www.MrGrant.com
http://www.twitter.com/toasterboy
https://instagram.com/throwingtoasters/
SOURCES:
https://disneyworld.disney.go.com/attractions/magic-kingdom/tron-lightcycle-run/
https://en.wikipedia.org/wiki/Tron_Lightcycle_Power_Run
Show ©2023 Saturday Morning Media/Grant Baciocco