136 – Remy's Ratatouille Adventure – Epcot – Attraction Checklist
Podcast: Play in new window | Download (Duration: 20:57 — 28.9MB) | Embed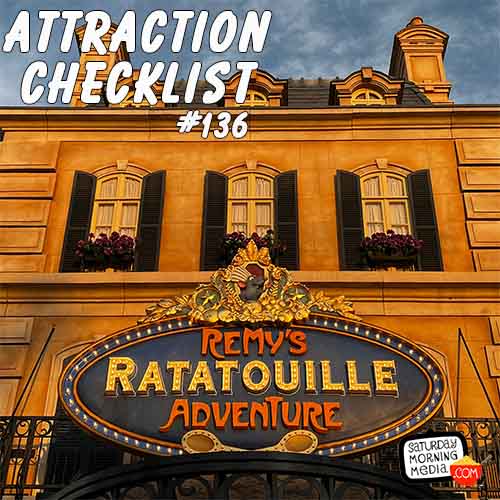 http://www.attractionchecklist.com –
Join us as we scurry off to Epcot to ride and review Remy's Ratatouille Adventure on this episode of Attraction Checklist.
Attraction audio recorded on July 12, 2022.
TRANSCRIPT:
Welcome to Attraction Checklist.
This episode we visit Epcot to ride World Showcase's newest attraction, Remy's Ratatouille Adventure.
There are no age or height requirements for this attraction and the guide map describes the ride saying, "Join Remy on a 3D ride through the culinary world of Ratatouille."
Before we shrink down to the size of a mouse, here are 5 fast facts about Remy's Ratatouille Adventure.
1. Remy's Ratatouille Adventure officially opened at Epcot on October 1, 2021.
2. Remy's Ratatouille Adventure features a trackless ride system that uses Wifi and RFID to know the exact position of each car on in the attraction.
3. The ride has 36 Rat shaped ride vehicles that can take over 2000 guests through the ride per hour.
4. Composer Michael Giacchino who composed the music for the film Ratatouille also produced the music for this attraction.
5. Eagle eyed riders can spot the classic Toy Story Pizza Planet truck's silhouette in one of the windows at the very beginning of the ride.
Let's go ride Remy's Ratatouille Adventure! Happy to say that after 2 years away, I'm back in Walt Disney World with John B. deHaas who will be joining me for this attraction and stay tuned after our initial review for a follow up review we recorded a few days later. Oh, and if you have headphones, put them on now as we ride Remy's Ratatouille Adventure at Epcot!
The attraction audio recorded for this episode is available exclusively to the Saturday Morning Media Patron Patron. Support the show and get fun Bonus content over at http://www.patreon.com/saturdaymorningmedia
Episode edited by Stephen Staver
FOLLOW US
https://www.instagram.com/attractionchecklist/
http://www.twitter.com/SaturdayMMedia
https://www.linkedin.com/company/saturday-morning-media
http://www.youtube.com/user/SaturdayMorningMedia?sub_confirmation=1
FOLLOW GRANT
http://www.MrGrant.com
http://www.twitter.com/toasterboy
https://instagram.com/throwingtoasters/
SOURCES:
https://disneyworld.disney.go.com/attractions/epcot/remys-ratatouille-adventure/
https://en.wikipedia.org/wiki/Remy%27s_Ratatouille_Adventure
Show ©2022 Saturday Morning Media/Grant Baciocco