135 – Mad Tea Party – Disneyland – Attraction Checklist
Podcast: Play in new window | Download (Duration: 12:20 — 17.0MB) | Embed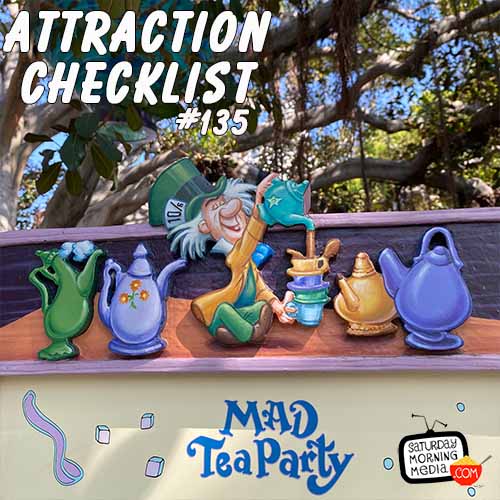 http://www.attractionchecklist.com –
Whether it's your Very Merry Un-Birthday or not, we're headed to Disneyland for a spin on Mad Tea Party on this episode of Attraction Checklist. Attraction audio recorded on May 18, 2021.
TRANSCRIPT:
Welcome to Attraction Checklist.
Let's head to Fantasyland in Disneyland to visit Mad Tea Party.
The Disneyland Resort website describes this attraction saying: Pour yourself into an oversized teacup and spin through a whimsical party.
There are no age or height requirements for this attraction and the thrill level describes this attraction as being a Spinning Ride.
Before we spill the tea, here are five fast facts about Mad Tea Party.
1. The original Mad Tea Party opened with Disneyland on July 17, 1955. This version was located directly behind King Arthur's Carousel. In 1983, the attraction was moved to its current location near the Alice In Wonderland attraction.
2. The original Mad Tea Party that opened with the parks had tea cups that featured no brakes or clutches nothing that limited how fast they spun.
3. In 2004, the amount of spin each tea cup had was limited after a guest experience a serious fall on the attraction. The limitation was later restored after guests complained.
4. For Disneyland's 50th Anniversary, one the other teacups on the attraction was painted gold.
5. The designs on the tea cups were designed by Disney Legend Mary Blair.
Let's pick out a teacup and get spinning. After the ride, I'll give you my thoughts on this attraction. This is a binaural recording so if you have headphones put them on now as we ride Mad Tea Party at Tea Party.
The attraction audio recorded for this episode is available exclusively to the Saturday Morning Media Patron Patron. Support the show and get fun Bonus content over at http://www.patreon.com/saturdaymorningmedia
Episode edited by Stephen Staver
FOLLOW US
https://www.instagram.com/attractionchecklist/
http://www.twitter.com/SaturdayMMedia
https://www.linkedin.com/company/saturday-morning-media
http://www.youtube.com/user/SaturdayMorningMedia?sub_confirmation=1
FOLLOW GRANT
http://www.MrGrant.com
http://www.twitter.com/toasterboy
https://instagram.com/throwingtoasters/
SOURCES:
https://disneyland.disney.go.com/attractions/disneyland/mad-tea-party/
https://en.wikipedia.org/wiki/Mad_Tea_Party
Show ©2022 Saturday Morning Media/Grant Baciocco