Sleeping Beauty Castle Walkthrough – Disneyland – Attraction Checklist #134
Podcast: Play in new window | Download (Duration: 12:08 — 16.8MB) | Embed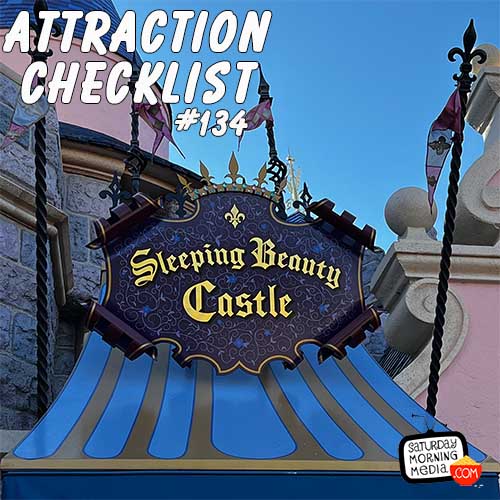 http://www.attractionchecklist.com –
Join me as I learn the story of Aurora as we visit the Sleeping Beauty Castle Walkthrough at Disneyland on this episode of Attraction Checklist. Attraction audio recorded on March 8, 2022.
TRANSCRIPT:
Welcome to Attraction Checklist.
This episode Check out one of Disneyland's most unique attractions, Sleeping Beauty Castle Walkthrough. The Disneyland Resort website describes this attraction saying, "Gaze at Sleeping Beauty Castle and venture inside to relive scenes from the beloved Disney classic."
There are no age or height requirements for this attraction and the Thrill Level describes it as a being Dark.
Before we confront Maleficent, here are five fast facts about Sleeping Beauty Castle Walkthrough.
1. The Sleeping Beauty Castle Walkthrough officially opened on April 29, 1957.
2. The original dioramas featured in the walkthrough were designed in the style of Eyvind Earle, production designer for the 1959 Disney film Sleeping Beauty.
3. The walkthrough was redone in 1977 to make the dioramas look more like the popular windows on Main Street. This installation closed in 2001 and reopened seven years later with the experience going under a major refurbishment. The dioramas to their original style with added projection effects. This new version opened November 27, 2008.
4. For guests who are unable to climb the stairs of the attraction, there is a virtual experience on the ground level near the attraction's exit.
5. As you walk through the attraction be sure to check out the Corridor of Goons for some fun effects.
Okay, let's head inside for a walkthrough of Sleeping Beauty's Castle. Afterwards I'll give you my thoughts on this attraction and this is a binaural recording so if you have headphones put them on now as we check out the Sleeping Beauty Castle Walkthrough at Disneyland.
The attraction audio recorded for this episode is available exclusively to the Saturday Morning Media Patron Patron. Support the show and get fun Bonus content over at http://www.patreon.com/saturdaymorningmedia
Episode edited by Stephen Staver
FOLLOW US
https://www.instagram.com/attractionchecklist/
http://www.twitter.com/SaturdayMMedia
https://www.linkedin.com/company/saturday-morning-media
http://www.youtube.com/user/SaturdayMorningMedia?sub_confirmation=1
FOLLOW GRANT
http://www.MrGrant.com
http://www.twitter.com/toasterboy
https://instagram.com/throwingtoasters/
SOURCES:
https://disneyland.disney.go.com/attractions/disneyland/sleeping-beauty-castle-walkthrough/
https://en.wikipedia.org/wiki/Sleeping_Beauty_Castle
Show ©2022 Saturday Morning Media/Grant Baciocco