Impressions de France – Epcot – Attraction Checklist #113
Podcast: Play in new window | Download (Duration: 25:58 — 35.8MB) | Embed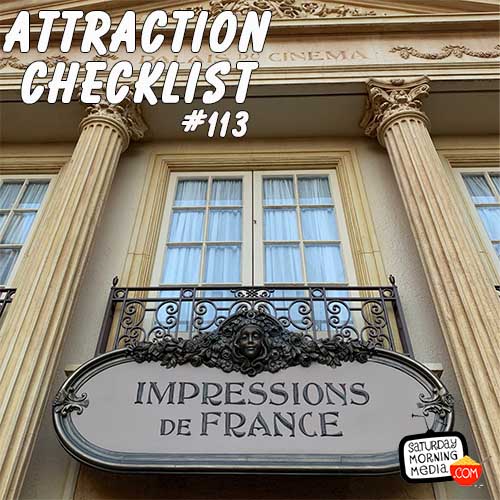 http://www.attractionchecklist.com – Let's head to Epcot to watch and review the classic film Impressions de France! Recorded on October 30, 2016.
TRANSCRIPT:
Welcome to Attraction Checklist.
Bonjour friends! On this episode of Attraction Checklist we head to Epcot to experience the, pre-update, version of Impressions de France.
The guide map describes Impressions de France by saying: Experience the grandeur and charm of of the French countryside through film. There are no age or height requirements for this attraction and since it is a film, there is no Thrill Level listed.
Before we ride, here are five fast facts about Impressions de France:
1. Impressions de France is one of the few remaining Epcot opening day attractions, opening with the park on October 1, 1982.
2. The super widescreen film was directed by Rick Harper and written and produced by two time Academy Award Nominee Bob Rogers.
3. The film features the music of classical French composers in a score written and arranged by Buddy Baker. The score was recorded on a prototype recorded from Sony making it the first movie with a digital soundtrack from beginning to end.
4. Impressions de France holds the Guinness World record for 'longest running daily screening of a film in the same theater.'
5. In 2019, Impressions de France received a 4k upgrade and now runs opposite of the Beauty & The Beast Sing A Long we reviewed back in episode 89. The recording for this episode took place before the upgrade to 4K
Let's go see Impressions de France! Along for the show is fellow Disney fan Eve Cunning and after the attraction audio we'll give you our thoughts on this attraction. This is a binaural recording so if you have headphones put them on now as we experience Impressions de France at Walt Disney World's Epcot.
The attraction audio recorded for this episode is available exclusively to the Saturday Morning Media Patron Patron. Support the show and get fun Bonus content over at http://www.patreon.com/saturdaymorningmedia
Episode edited by Stephen Staver
FOLLOW US
http://www.facebook.com/attractionchecklist
http://www.facebook.com/saturdaymorningmedia
http://www.twitter.com/SaturdayMMedia
https://plus.google.com/+Saturdaymorningmedia
https://www.linkedin.com/company/saturday-morning-media
http://www.youtube.com/user/SaturdayMorningMedia?sub_confirmation=1
FOLLOW GRANT
http://www.MrGrant.com
http://www.twitter.com/toasterboy
https://instagram.com/throwingtoasters/
SOURCES:
https://disneyworld.disney.go.com/attractions/epcot/impressions-de-france/
https://en.wikipedia.org/wiki/Impressions_de_France
https://www.laughingplace.com/w/articles/2020/01/22/attraction-review-impressions-de-frances-4k-upgrade-at-epcot/
Show ©2021 Saturday Morning Media/Grant Baciocco