Autopia – Disneyland – Attraction Checklist #110
Podcast: Play in new window | Download (Duration: 17:31 — 24.4MB) | Embed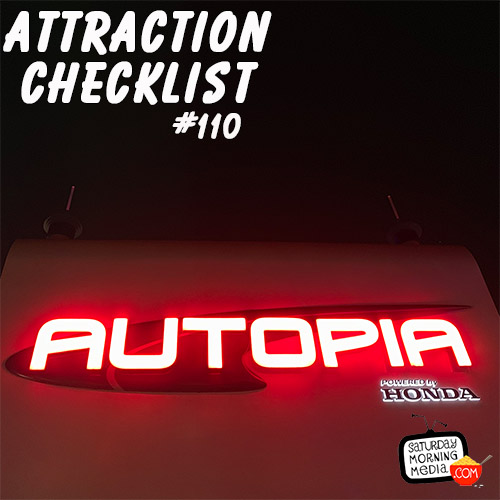 http://www.attractionchecklist.com – Please do not bump the car ahead of you as we visit Autopia at Disneyland! Recorded on June 18, 2019.
TRANSCRIPT:
Welcome to Attraction Checklist.
This episode we take a drive on Disneyland's Autopia!
The Disneyland website describes Autopia by saying: Put the pedal to the metal on an unforgettable road trip along a miniature motorway.
Riders must be 32" tall to drive their own cars and the Thrill Level describes Autopia as being a Slow Ride that is Loud. FastPass is available for this attraction.
Before we go and bump the car in front of us, here are five fast facts about Disneyland's Autopia.
1. Autopia opened with Disneyland on July 17, 1955.
2. As the attraction was being designed, early versions of the name included the word 'freeway' as the ride was answering the question of what freeways would look like in the future. It was Walt who suggested the name Autopia, a combination of the words automobile and utopia.
3. Before the park opened, the Autopia cars were tested without bumpers and the test cars were almost completely destroyed during testing. Bumpers were then added.
4. Autopia cars have a top speed of 7 miles per hour.
5. In 2016, Honda became the new sponsor of the attraction, replacing Chevron. In 2017, Honda introduced the humanoid robot ASIMO and his friend Bird who would appear in scenes around the attraction. Bird is the first character created for Autopia.
Now, let's hit the highway on Autopia. After we ride, I'll give you my thoughts on this attraction. This is a binaural recording so if you have headphones put them on now as we ride Autopia at Disneyland!
The attraction audio recorded for this episode is available exclusively to the Saturday Morning Media Patron Patron. Support the show and get fun Bonus content over at http://www.patreon.com/saturdaymorningmedia
Episode edited by Stephen Staver
FOLLOW US
http://www.facebook.com/attractionchecklist
http://www.facebook.com/saturdaymorningmedia
http://www.twitter.com/SaturdayMMedia
https://plus.google.com/+Saturdaymorningmedia
https://www.linkedin.com/company/saturday-morning-media
http://www.youtube.com/user/SaturdayMorningMedia?sub_confirmation=1
FOLLOW GRANT
http://www.MrGrant.com
http://www.twitter.com/toasterboy
https://instagram.com/throwingtoasters/
SOURCES:
https://disneyland.disney.go.com/attractions/disneyland/autopia/
https://d23.com/speed-through-these-autopia-facts/
https://en.wikipedia.org/wiki/Autopia
Show ©2021 Saturday Morning Media/Grant Baciocco